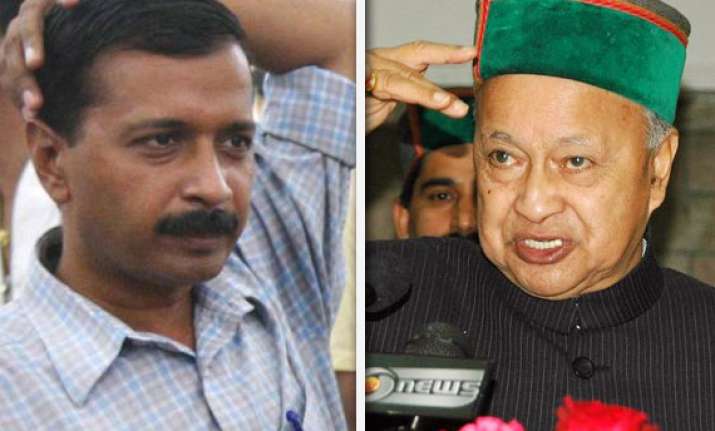 New Delhi, Apr 1:
Union Minister Virbhadra Singh today threatened to file a criminal defamation suit against Arvind Kejriwal if he did not tender an unconditional apology for "maligning" him, as the key Team Anna aide faced a privilege notice from a fourth MP for allegedly insulting Parliament.
"I intend to file criminal defamation suit," the Union Minister for Micro, Small and Medium Enterprises said.
Singh was named by Team Anna in the list of 14 ministers against whom it has demanded registration of FIR and investigation into allegations of corruption.
Singh, a veteran Congress leader from Himachal Pradesh, said he has written a letter to Kejriwal to tender an unconditional apology for "maligning" his name and if his reply is not found "satisfactory" he should be prepared to face legal action.
"If good sense prevails on him (Kejriwal) he should tender unconditional apology.... I am waiting for his reply to my letter.... If the reply is not found satisfactory he (Kejriwal) should be prepared to face legal action," Singh, a former HP Chief Minister, told PTI.
Singh had earlier written a letter to Kejriwal seeking unconditional apology for levelling "baseless" charges.
The fresh breach of privilege notice on Kejriwal was moved by Congress MP Jagdambika Pal.
A Team Anna member said Kejriwal has received the letter from Singh as well as the privilege notice served on him by Pal. Pal in his letter to Speaker alleged that Kejriwal's remarks "demeaned the institution of Parliament, its custodian and its members".
Apart from Pal, privilege notices were earlier moved by Rajya Sabha members Ramkripal Yadav and Rajneeti Prasad (both RJD) and Lok Sabha MP Sajjan Kumar Verma (Congress) following Kejriwal's March 25 speech at Jantar Mantar during which he raised the issue of 162 people with criminal cases being MPs.  Kejriwal today stuck to his position and said he hadn't said anything wrong.
"I will respond in a week's time. I have not said anything wrong. There is no question of apology," he told PTI.
Kejriwal earlier struck a defiant note in replying to the privilege notices asking how can he respect the House which has 162 MPs with criminal background.