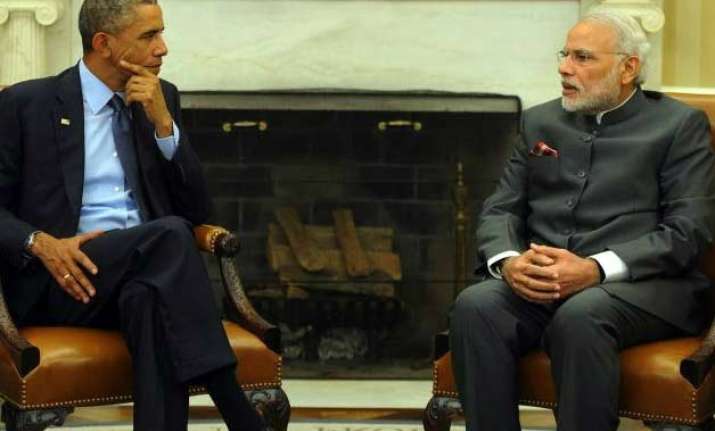 New Delhi: US has once again asked India to ink the three military "foundational" pacts that it has been pushing for over a decade now.
The previous UPA govt had refused to succumb to the US pressure and decided against  signing on the dotted lines.  
Underlining the importance of  bilateral Defense Trade and Technology Initiative (DTTI) for closer strategic ties, US has been pushing these  three pacts.
These pacts are:  Logistics Support Agreement (LSA), Communication Interoperability and Security Memorandum Agreement (CISMOA) and Basic Exchange and Cooperation Agreement for Geo-Spatial Cooperation (BECA).  
The US hopes that with a clear majority in the Lok Sabha Modi government can pave the way for signing of these pacts.
US officials Thursday said if India did not sign the pacts, it would become "an issue" at some point in the future as the two countries worked on high-end defence technology.
Kenneth Handelman, deputy assistant secretary (defence trade controls) said, "DTTI has progressed in the absence of the foundational agreements...but at some point the foundational agreements are going to be an issue whether it's the LSA or CISMOA."
Another round of the DTTI was co-chaired on Thursday by defense production secretary G Mohan Kumar and US undersecretary of defence Frank Kendall,
While Handelman indicated that the disagreement on the pact could lead to an "issue" in the future, Kendall , on the other hand, opined that they were not directly linked to DTTI.
CISMOA and BECA, as per US, are basically "technology enablers" which will allow it to transfer high-tech avionics and electronics to India while LSA envisages the militaries of the two countries providing logistics support, refueling and berthing facilities for each other's warships and aircraft on a barter or on an equal-value exchange basis.
Earlier, US gave informal discussion papers regarding the same to UPA government but no concrete output came at that time even though India agreed in 2009 to the End-Use Monitoring Agreement (EUMA) for the defence equipment it was buying from America.
In case of DTTI, India and US have agreed to co-development and co-production of four modest "pathfinder projects" and explore development of aircraft carrier technologies and jet engines under it during Barack Obama's visit here last month.