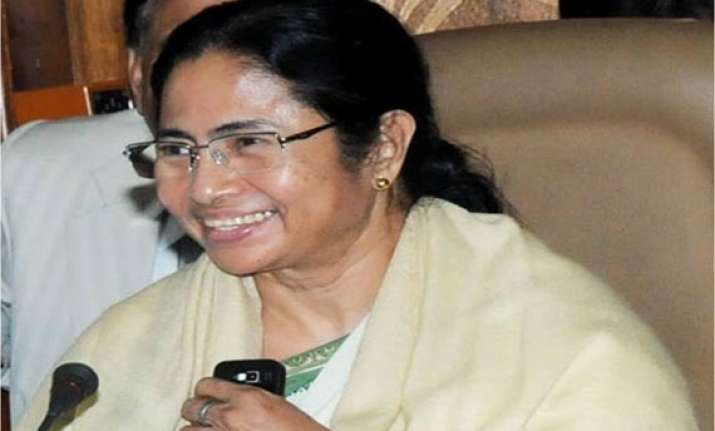 Kolkata, May 19: On the eve of Trinamool Congress government's completion of two years in office, Chief Minister Mamata Banerjee today said, two years was not an adequate time to evaluate the performance of her government, which carried the 'baggage' of the Left Front regime.
"Two years is not a big time to evaluate a new government. It has on its head the legacy of 34-year rule of the previous regime, a huge debt burden of more than Rs 2 lakh crore and a completely crippled and demoralised government machinery," Banerjee said in a Facebook post.
The new government, headed by Mamata Banerjee, was sworn to power on May 20, 2011.
Outlining her government's achievements in the past two years "despite severe financial crunch", Banerjee said, West Bengal had exceeded the national average in some key performance parameters.
She gave examples of the GDP, agriculture and allied sectors, industry and services, saying that the state had grown faster than India as a whole in the period under review.
"While the country registered growth in GDP by 4.96 per cent, agriculture 1,79 per cent, industry 3.12 per cent and services 6.59 per cent, Bengal recorded 7.6 per cent, 2.56 per cent, 6.24 per cent and 9.48 per cent growth in the sectors respectively," Banerjee claimed.
She also claimed that revenue collection during 2012-13 fiscal exceeded the previous financial year's figure by nearly 30 per cent.
"Our revenue collection of Rs 32,000 crore during 2012-13 exceeded that of the previous financial year by nearly 30 per cent, which is a record," Banerjee said.
She then lapsed into her oft-repeated grouse that the entire amount could not be used for development work as the central government deducted Rs 26,000 crore from this by way of repayment of debts incurred by the previous government.
Underlining the achievements in the rural sector, Banerjee claimed that Bengal currently ranked number one in ensuring 100 days' work under the NREGA scheme.
"In NREGA (100-days work), we are number 1 in the country in terms of expenditure (107 per cent) vis-a-vis funds received in 2012-13. In the previous regime this position varied between 17 and 23," she revealed.
The Chief Minister, however, refrained from saying anything on the Saradha group chit fund mess that her government found itself in and which threatens to dent her massive rural support base.