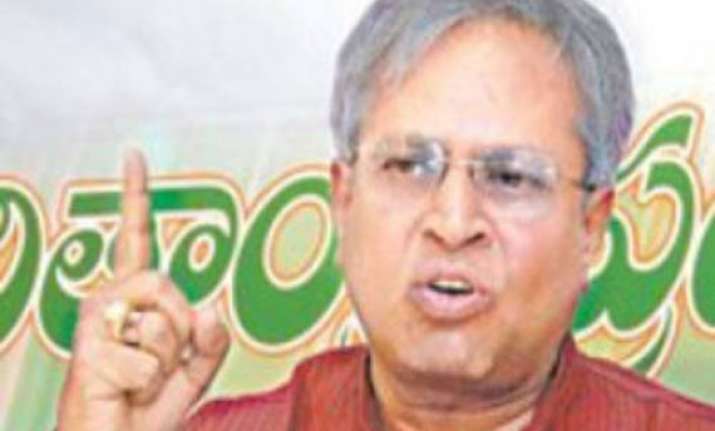 Rajahmundry (AP), Aug 5 : Congress leader Vundavalli Arun Kumar yesterday asked legislators from Seemandhra region to refrain from resigning, as doing so will decrease their strength in opposing the passage of the Telangana bill in  Andhra Pradesh Legislative Assembly.
Vundavalli recently resigned as MP from Rajahmundry in protest of the decision to create separate Telanagana.
"If any MLA resigns, he will lose a chance to express views of the people from their regions," Vundavalli said while addressing a public meeting here. "Besides this, there will be every chance that the Bill will be passed in Andhra Pradesh Legislative Assembly easily, as the number of MLAs from the coastal
Andhra-Rayalaseema regions favouring united Andhra Pradesh, will decrease due to resignations," he added.
"If any member resigns from the Assembly, it will give a chance to pass the Bill in the assembly. Therefore, all the MLAs should attend the Assembly and express people's views in favour of united Andhra Pradesh and then vote against the Bill," Arun Kumar said.
"We are not against the creation of separate Telangana state. But they should first decide the fate of Hyderabad. Without discussing whether Hyderabad would be converted into a Union Territory or permanent joint capital for two states, Andhra Pradesh and Telangana," he added.
He further said that Congress party in its election manifesto had clearly said that the decision on Telangana state would be taken at an appropriate time with consultation of all regions of people.
"We are giving priority to the sentiments of the people from the region and next importance to the party.
He urged all parties to join hands to strengthen the agitation for United state. Arun Kumar attacked TRS chief K Chandrasekhar Rao over his remark that state government employees from Rayalaseema and coastal Andhra working in Telangana should go back to their respective regions after formation of Telangana.