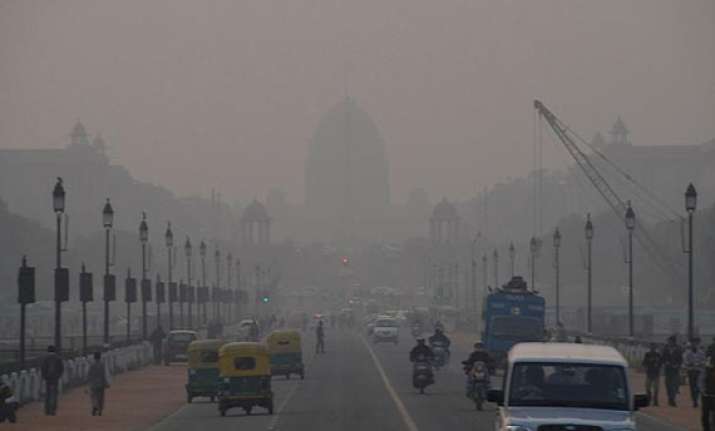 New Delhi, Nov 10: Taking a serious note of the drop in air quality and smog cover that has engulfed the city, a Supreme Court-appointed body today asked Delhi, Haryana, Punjab and Uttar Pradesh governments to take immediate steps to cut pollution.
At a meeting, the Environment Pollution Control Authority (EPCA) headed by former bureaucrat Bhure Lal told senior officials of the four governments to work in tandem to ensure improvement of air quality in Delhi and the other three states.
Officials of all the three governments told EPCA that they will crack down on polluting vehicles, particularly the diesel vehicles, so that they cannot enter Delhi from neighbouring states.
The Supreme Court had on Tuesday expressed concern over the rising pollution and smog in the national capital.  
The EPCA, which called the meeting, asked Uttar Pradesh, Haryana and Punjab to restrain farmers from burning paddy stubbles.
The Delhi government had blamed "massive" burning of farm wastes by farmers of Punjab, UP and Haryana for the smog.  
The Delhi government on Friday had decided to punish those found burning leaves and garbage.  
Officials present in the meeting said the EPCA asked Punjab, Haryana and Uttar Pradesh to extend certain incentives to their farmers who refrain from burning of farm wastes. The EPCA told the states to encourage the farmers to compost their farm wastes.
The EPCA has told the states that it will independently monitor compliance of its direction. Officials said vehicles coming from neighbouring states will be monitored at five entry points.
Concerned over the smog cover, Delhi Chief Minister Sheila Dikshit had decided to seek intervention of the Union Environment Ministry to direct the neighbouring states to refrain their farmers from burning paddy stubbles.