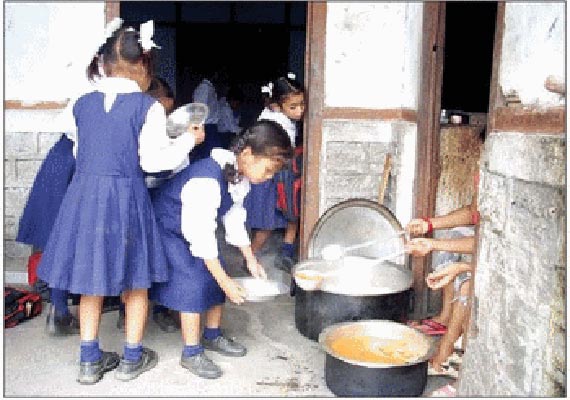 Lucknow, July 25: A tadpole was found in the mid-day meal served to students at a primary school in Moradabad, an official said Thursday.
'Tahri' (cooked rice) was served Wednesday at the Tikhunti primary school in Dilari area and one of the girl student's spotted a fried tadpole in her plate.
She promptly raised an alarm and fled the school to tell her parents.
As angry villagers came to the school, the principal and the three cooks employed to cook mid-day meal for students locked the school rooms and fled.
A sub-divisional magistrate was sent to the school to look into the incident. In his initial findings, the SDM found the complaint to be correct as the villagers handed over the tadpole to him.
After this, the district magistrate Thursday ordered a probe and asked the chief development officer to conduct an inquiry.
The absconding principal has been sacked and the services of the cooks terminated.
"We have taken stern and swift action in the case and I would like to assure that no carelessness will be tolerated in the mid-day meal scheme," an official said.
Following the Bihar tragedy earlier this month when 23 school children died after consuming poisonous mid-day meal, the state government issued a second advisory Thursday asking the district magistrates and divisional commissioners to continuously monitor the mid-day meal scheme and to personally ensure that hygiene was maintained at school pantries.
The advisory also warns that in case any incident of food poisoning or poor quality food in mid-day meal is found, the local authorities will face penal action.