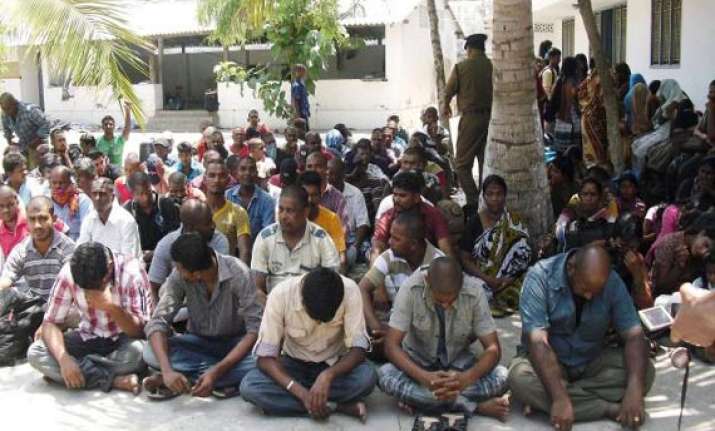 Chennai, Mar 22: Scores of Sri Lankan Tamil refugees sat on a one-day hunger strike in Chennai on Friday and demanded  that the Indian government should put pressure on Sri Lanka for an independent probe into war crimes.
Around 500 refugees including 350 women participated in the hunger strike.
"We have left our country and we are staying as refugees in Tamil Nadu. We want to leave peacefully in our country, and the world organisation must do something for us", said Shanmuganathan, one of the protesters.
The Sri Lankan Tamil refugees have demanded, withdrawal of army from Jaffna and other Tamil-populated areas, stopping sexual assaults on Tamil women, relocation of Tamil refugees and release of all detenus accused of being sympathetic to LTTE.
The protesters said  Sri Lankan government should stop Sinhalese from entering the Tamil region and let them live peacefully.
"We demand that  crimes such as rape which are committed against Tamil women in Sri Lanka should be stopped immediately. The Sinhalese people  who have occupied the Tamil regions of the country should immediately leave our areas",  said Maria Stella, a Sri Lankan Tamil refugee.
Tens of thousands of civilians were killed in 2009, in the final months of a war that began in 1983, a U.N. panel said, as government troops advanced on the last stronghold of the rebels fighting for an independent homeland.
The U.N. panel said it had "credible allegations" that Sri Lankan troops and the Tamil Tigers both carried out atrocities and war crimes, and singled out the government for most of the responsibility for the deaths.
Sri Lanka has come under international pressure to bring to book those accused of war crimes and boost efforts to reconcile a polarized country.
A UN report last year cited an earlier estimate of 40,000 civilians killed in crossfire between government and rebel forces after they were trapped on a sliver of coastline, and cited credible information that over 70,000 remained 'unaccounted for'.
The UN report reinvigorated calls from human rights groups and expatriate ethnic Tamils for an international investigation into suspected war crimes towards the end of the conflict with the LTTE (Liberation Tigers of Tamil Eelam).