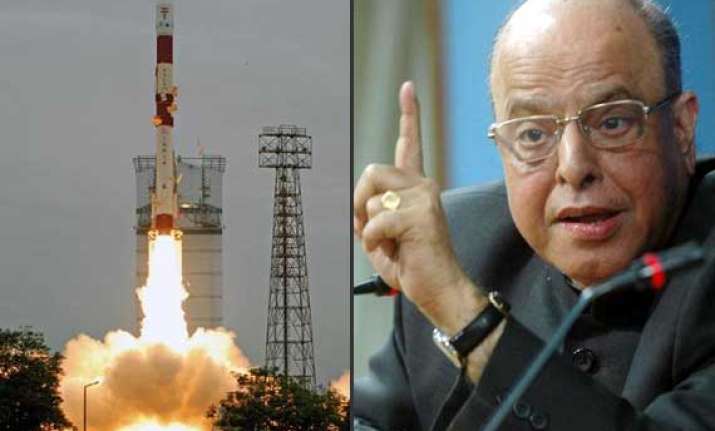 New Delhi: India's versatile space programme has potential to significantly improve health care through tele-medicine and gene therapy which will go a long way in providing affordable treatment to large section of people, former ISRO chairman K Kasturirangan said Sunday.
Delivering the 13th Dharma Vira Oration organised by Sir Ganga Ram Hospital, the eminent scientist, who had steered ISRO's space programme as its head from 1994 to 2003, said spin offs from satellite technology can be used extensively to enhance the health care sector in a big way.
"The experience from human space flight has led to several interesting ground based application such as artificial heart, kidney dialysis, invisible braces, sun glasses as well as other bio-medical instruments," Kasturirangan said while explaining possible applications of space technology in the health care sector.
Noting that tele-medicine could be a potential tool for improving the health care facilities across the country, he said it will cut the cost of medical treatment and at the same time ensure quality services, particularly to people in rural areas.
Kasturirangan, who is a member of the Planning Commission, said ISRO has provided connectivity to nearly 400 rural hospitals with 60 super specialty hospitals in the country so far.
Elaborating on the use of various satellite-related innovations in health sector, Kasturirangan said space imaging techniques can be helpful for early detection of cancer, cardiovascular disease and heart surgery.
He said continuous monitoring of astronaut's heart in space can be of great help to similar needs on the ground.
Ashok Chandra, Chairman of Sir Ganga Ram Trust Society paid tributes to Dharma Vira, saying his vision of involving doctors in the day to day running of the hospital have paid rich dividends.
"We are trying to fulfil his dream by providing quality, affordable health care to all sections of our society," said D S Rana, Chairman of Board of Management of the hospital said.
In his address titled 'Space: An Innovative Tool for Serving Human Kind' Kasturirangan also outlined some futuristic developments involving the 'bio-capsules' to reduce the effect of high radiation levels, treating diabetes and brain cancer as well as their use in gene therapy.
Under Kasturirangan's leadership, ISRO witnessed several major milestones including the successful launching and operationalisation of the India's prestigious satellite launch vehicles, the Polar Satellite Launch Vehicle and the Geosynchronous Satellite Launch Vehicle.
Kasturirangan emphasised on the fact that India's Space Programme is unique for its orientation to socio-economic objectives, "something which many developing countries could gainfully emulate".
"The constellation of remote sensing satellites systems established by India is the most versatile system in the world for providing space based information for a variety of applications," he said.