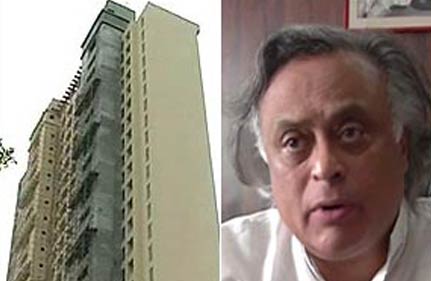 New Delhi:  The controversial Adarsh Housing Society in Mumbai is in the eye of another storm. The Environment Ministry has now said that the housing society has violated green norms and some of its floors could be demolished once the Maharashtra government submits its final report.
"There is no question about it that they (Adarsh Housing Society) have violated norms while constructing the building. The interim report submitted by the state government clearly shows that violation has taken place," Environment Minister Jairam Ramesh said on the sidelines of a function in New Delhi.  
The minister suggested that some of the floors of the 31-storey building in upscale Colaba area of Mumbai could be demolished as has been done in similar cases in the past. 
He said that his ministry is awaiting the final report from the Maharashtra Government after which appropriate action will be taken against the owners of the 100-metre tall building that has violated the CRZ limit of a height of 30 metres. 
"Let's see. It all depends on what they have to say in the report," Ramesh said when asked what options the ministry has even as he referred to similar instances in the past when the illegal constructions have been razed by authorities. 
He particularly referred to the demolition of additional four storeys of a high profile high-rise building White House at Bhagwan Das road in Delhi. 
"We have some floors of the White House near Supreme Court demolished as they were constructed in violation," the Minister added. 
The society, built on a 6,490 sq metre plot in the Coastal Regulatory Zone (CRZ) II, was initially promoted as housing for war veterans and widows but is in the eye of a storm for violating environmental and other norms and misusing the land granted to it. 
The Environment Ministry has already made it clear that it never issued a No Objection Certificate (NOC) on March 11, 2003, to the Society for construction of the residential building. PTI