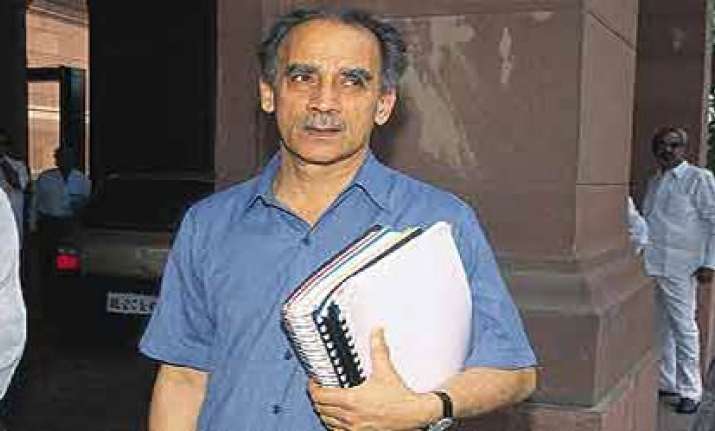 New Delhi, Feb 25: Former Telecom minister Arun Shourie was today questioned by the CBI during which he alleged that his successor Dayanidhi Maran had tweaked the TRAI guidelines in 2005 to benefit some operators.
Emerging after a three-hour long question session, Shourie told reporters that he had cited several instances to the investigating officers of alleged irregularities during Maran's tenure before A Raja took over as Telecom minister in 2007.
"Maran was the Minister. What is Raja being accused of? Giving these 122 licenses without spectrum, when there is no spectrum with the Government. But it was in Maran's time that one sentence was put into the guidelines that there shall be no cap on the number of operators in a circle," he said.
Shourie said such a change could only come as a Telecom Regulatory Authority of India (TRAI) recommendation.
"This (change) comes in the guidelines of 2005 whereas the TRAI did not recommend it till 2007. So by what horoscope under Maran was it decided that yes we can anticipate this recommedation before two years and start. That is how some operations were planned that could not go through and Raja acted on them," he quipped.
He also advised Raja to turn approver for the agency and spill the beans about the beneficiaries of this scam. Shourie, who reached the CBI headquarters in the morning, was questioned along with the then Department of Telecom Secretary Vinod Vaish.
He said he had requested the presence of Vaish and some other officials because of their technical knowledge about the issue.
"I told them (the investigators) what were the circumstances and how individual decisions (regarding spectrum allocation) were taken that time (during his tenure) and that there was not a slightest departure from TRAI recommendations. There was not a slightest departure from the Cabinet decisions," Shourie said.
Handing over a 50-page note prepared by him on various issues relating to 2G-spectrum allocation policy appearing in the media, Shourie said he was ready to appear again if called by the agency.
The eminent journalist said he informed the CBI that TRAI did not do anything "surreptitiously" during his tenure and all the decisions were taken after open consultations.
"Not one of the 28 licenses was given for any lucrative area. They were given for the areas in which nobody was going. The objective of the Government was that in the North east, Bihar, Eastern UP and Jammu and Kashmir, mobile telephony should be extended and we achieved that," he said.