Follow us on New Delhi: Former Press Council chairman Markandey Katju has again erupted another controversy by tweeting that BJP leader Shazia Ilmi is much more beautiful than the party's chief ministerial candidate Kiran Bedi.
In two consecutive tweets Katju said, "I regard Shazia Ilmi much more beautiful than Kiran Bedi. If Shazia had been made their C.M. candidate BJP wud have definitely won the Delhi elections....People vote for beautiful faces, as in Croatia. Even a person like me who does not vote wud have voted for Shazia."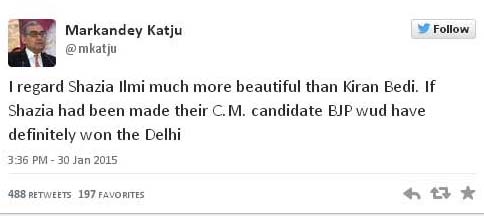 Citing an example of Croatia's President Grabar-Kitarovic, Katju wrote, "People vote for beautiful faces, as in Croatia. Even a person like me who does not vote would have voted for Shazia."
As angry responses poured in, Justice Katju backtracked, tweeting: "Some people objected to my last tweet. My response is: develop a sense of humour. The tweet was in lighter vein,& shud be construed as such".
He also defended his remark on his blog: "What is wrong with some of you people ? Can't an old man like me admire a beautiful woman? By admiring a beautiful flower I am not plucking it, and by admiring a beautiful garden from a distance I am not tresspassing onto it. Similarly, if I admire a beautiful woman I am not misbehaving with her, or taking liberties with her."
He had earlier raised eyebrows by posting on his personal blog that he wants Katrina Kaif to be the next president of India.
"I am always in favour of electing beautiful women, like film actresses, on all posts. This is because politicians will promise the moon, but not do anything for the public welfare. So since you must have someone, why not vote for a beautiful face? At least you will get some momentary happiness looking at her face in the media. Otherwise you will get nothing at all. I suggest we make Katrina Kaif the next President of India, but on condition, that she sings ' Sheela ki Jawaani' on her inaugural!" excerpts from his blog.  
Retired Justice Katju's remarks had sparked many controversies in past too.