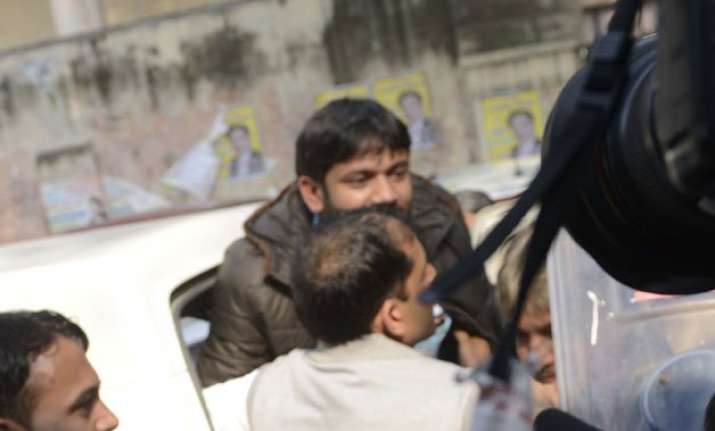 New Delhi: In what may turn out to be a huge embarrasment for Delhi Police,the sedition charges slapped against JNUSU leader Kanhaiya Kumar will have to be dropped if no concrete evidence proving his involvement in anti-India sloganeering is found.
"The sedition charges against JNUSU leader Kanhaiya Kumar will have to be dropped if no solid evidence that he was shouting anti-India slogans," senior MHA official was quoted as saying to Economic Times.
The ET report also said that Delhi Police has informed the home ministry that the audio in the footage on the alleged incident received by them was of poor quality and that they have sought forensic opinion on it.
Earlier, it was reported that Delhi Police was carrying a test of the voice sample of Kumar and that a forensic result was awaited.
Hours after the Centre's directions, police commissioner BS Bassi said: "If Kumar applies for bail, then police will not object to it. I personally feel a young person... perhaps be given bail."
Earlier Bassi had claimed that  the police have evidence of Kumar's involvement in anti-India sloganeering.
Metropolitan Magistrate Lovleen sent Kanhaiya Kumar to judicial custody after Delhi Police said it did not need the Jawaharlal Nehru University Students Union (JNUSU) president any more for interrogation.
The court directed Delhi Police to escort him to the jail from the court, and the superintendent of the Tihar jail to ensure his safety. Kanhaiya was sent to judicial custody in Tihar Jail for 14 days and had to be taken out of the complex by policemen who dressed him in riot gear and used shields to protect him.
Kanhaiya Kumar told the court that he was attacked by a group of people wearing black robes while he was being escorted by police to the court room. The leftist All India Students Federation (AISF) leader was arrested on February 12 on after anti-India slogans were raised at an event held at the JNU campus on February 9 to commemorate the execution of parliament attack convict Afzal Guru.
Kanhaiya Kumar, in a statement leaked to the media, appealed to students to maintain calm and said he does not support anti-national activity.
He condemned the February 9 event at the JNU and said those who shouted the allegedly anti-national slogans included "some people from JNU and a section of outsiders".
According to reports, Kanhaiya was attacked twice on Wednesday — the first assault took place when he was being led into the court premises and again when he was entering Court Number 3. "A man wearing a grey blazer and sporting dark glasses thrashed him.
Kumar, who has been booked under sedition charge in connection with an event in JNU where anti-national slogans were allegedly raised last week, has been arrested by Delhi Police.He has been remanded to judicial custody till March 2.