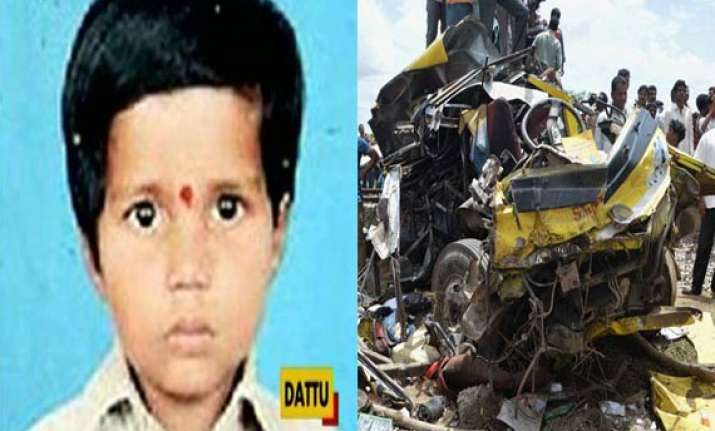 New Delhi: It is like rebirth for six-year-old Darshan Goud, who was mistakenly believed to have been killed in the terrible train-school bus collision at an unmanned railway crossing that left 16 persons, including 14 children, dead in Telangana's Medak district.
In a case of mistaken identity, the boy's father, Swmay Goud, was handed over a "body" as his son on Thursday, and the sorrowful parents performed last rites subsequently.
Confused? So was the boys father Swamy Goud because when he went looking in the hospital for Darshan, the hospital authorities heard 'Darshan' as 'Dattu' and handed him Darshan's classmate, Dattu's body.
Goud could not recognise his face as it was terribly disfigured as a result of the impact of the collision. He performed Dattu's last rites, thinking it was Darshan.
On Friday, when Darshan gained consciousness at Yashoda hospital in Secunderabad and revealed his father's name, Swamy Goud was called.
And his joy knew no bounds when he saw an injured but smiling Darshan at the hospital. Rebirth could not have been more dramatic.
But it was grief for Dattu's family whose elder sister also died in the accident.
Dattu's father Veera Babu had taken away the body of his daughter and presumed that his son was being treated in one of the hospitals in Hyderabad.
But it was only when he checked the records, the authorities realised that Dattu's body had been taken away by mistake.
In one of the biggest tragedies involving school children, 16 persons, including 14 children, were killed at an unmanned level-crossing near Masaipet of Veldurthi mandal of Medak district in Telangana when a speeding train hit a school bus on Thursday morning.
Witnesses told the police that the driver of the bus was wearing ear phones  probably listening to music or talking on his mobile phone —  and tried to cross the track while a train was coming, resulting in a side on-collision.
Among the 14 children who died, eight are boys and six are girls, all aged below 12 years. Most of them were Nursery, Lower KG and Upper KG students.