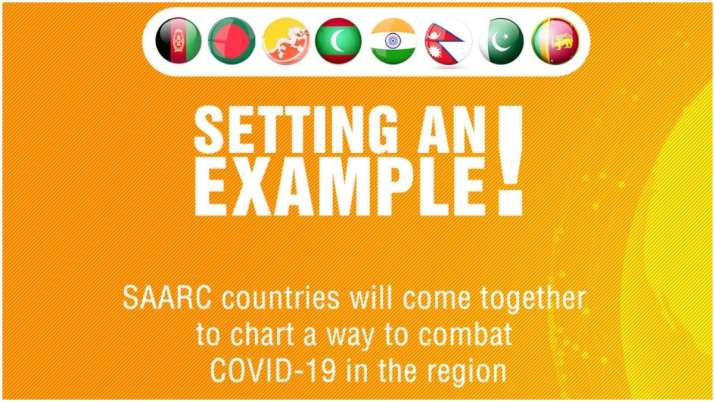 India on Sunday offered $10 million to set up a common voluntary emergency fund for the members of South Asian Association of Regional Cooperation (SAARC) to combat the coronavirus pandemic. In an unprecedented move in the diplomatic history of the world, eight countries of SAARC held a web-summit to chalk out a joint strategy to contain the coronavirus outbreak that has hit the world.
The initiative was taken by Prime Minister Narendra Modi in view of the WHO advisory to avoid public gatherings. The proposal was welcomed and accepted by other members of the SAARC - Afghanistan, Bangladesh, Bhutan, the Maldives, Nepal, Sri Lanka and Pakistan.
Prime Minister Modi led the video-conference on Sunday evening by briefing the members on the measures India took to prevent and contain the pandemic since the outbreak of COVID-19, which originated from Wuhan city in China.
Afghan President Ashraf Ghani, Bangladesh Prime Minister Sheikh Hasina, Bhutan Prime Minister Lotay Tshering, Maldives President Ibrahim Mohamed Solih, Nepal Prime Minister K.P. Sharma Oli, Sri Lankan President Gotabaya Rajapaksa and Pakistan's Minister of State for Health Zafar Mirza, spoke one after another, giving details about the steps each of them have taken in their respective countries to control the pandemic.
Country
Confirmed Cases
Deaths
Recovered
Afghanistan
16
-
1
Bhutan
1
-
-
Maldives
11
-
-
Bangladesh
5
-
2
India
107
02
10
Pakistan
33
-
2
Sri Lanka
11
-
1
Nepal
1
-
-

 
SAARC Video Conference on coronavirus: Highlights
06:20 pm: Zafar Mirza, State Minister of Health of Pakistan: We have decided to close all our educational institutions for 3 weeks, close the entire western border for 2 weeks, restrict international flights to 3 airports only and to ban all large public gatherings.
6:10 pm: PM Narendra Modi: Looking ahead, we could create a common research platform, to coordinate research on controlling epidemic diseases within our South Asian region. The Indian Council of Medical Research can offer help coordinating such an exercise.
06:03 pm: PM Modi proposes the formation of a fund to help SAARC nations counter coronavirus. 
05:54 pm: Pakistan's representative Dr Zafar Mirza is now speaking at the conference.
05:46 pm: Bhutan PM Lotay Tshering: I think it is very timely and would like to thank PM Modi for his excellent leadership to bring all of us together because togetherness is required at all times but when the world is fighting one common disease, it is very important to leave behind our differences.
05:41 pm: Sheikh Hasina, Prime Minister of Bangladesh: I thank PM Modi for taking this initiative. I also thank him for bringing and hosting 23 of our students from Wuhan (China) along with Indian students.
05:35 pm: Our economy has taken serious blow, particularly tourism sector which was just recovering after last years' terrorist attack. I strongly recommend SAARC leaders to formulate mechanism to assist our economies to tide over difficult period: Sri Lankan President Gotabaya Rajapaksa
05:31 pm: Sri Lankan President Gotabaya Rajapaksa is now speaking at the video conference. 
05:15 pm: "Whenever a person is tested positive and needs extensive care, he has to be transported to capital Male, this is a very costly process. The Maldives is happy to have received medical relief from India," President Solih said. 
05:13 pm: After the Afghan President, Maldives President Ibrahim Mohamed Solih speaks at the conference. "No country alone can fight coronavirus," he said.
05:09 pm: Afghanistan's newly elected President Ashraf Ghani is now speaking on the video conference.
05:08 pm: We cannot predict with certainty how the situation will unfold despite our best efforts: PM Modi
05:04 pm: "SAARC comprises of 1/5th of all humanity. We must all prepare together, we must all act together and we must all succeed together," Prime Minister Narendra Modi said.
05:02 pm: The video conference has begun and PM Modi is now speaking.
Watch SAARC video conference on coronavirus