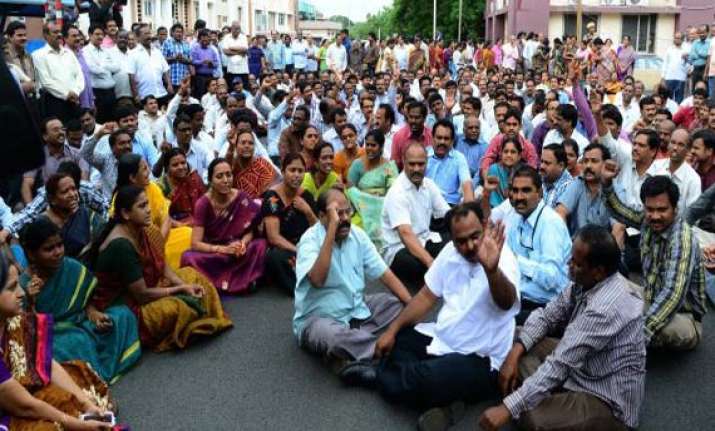 Hyderabad: Protests by united-Andhra supporters, including ruling Congress leaders, continued yesterday in the Coastal Andhra and Rayalaseema regions against division of the state.
Senior Congress MLA and former minister Gade Venkat Reddy said the Seemandhra people would not take the division of Andhra Pradesh kindly.
The pro-Andhra supporters organised rallies, sit-ins and other forms of protest at several places in two regions. Union Minister of State for Finance J D Seelam faced protests from agitators in Coastal Andhra during a visit.
Union Minister of State for Petroleum Panabaka Lakshmi said she and other Congress leaders would ensure that no injustice is done to Seemandhra.
TDP Chief N Chandrababu Naidu is likely to resume his 'Atmagaurava Yatra' (self-respect yatra) soon in coastal region. Naidu held a fast in Delhi recently on the issue of division.
Following the Union Cabinet's endorsement of separate Telangana demand, the Group of Ministers (GoM) appointed to go into the issue of division held its second meeting in Delhi yesterday.