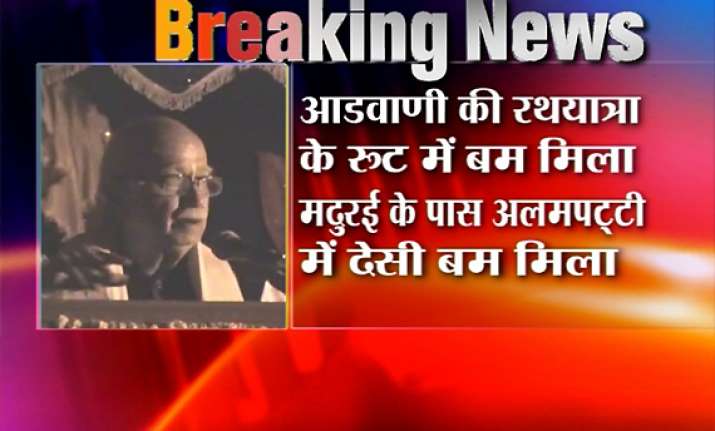 Madurai, Oct 28: A powerful pipe bomb planted under a culvert through which BJP leader L K Advani was to travel as part of his Yatra was defused today with police suspecting the hand of naxals.

83-year-old Advani, who has the top most Z-plus category security, changed his route after the five-feet long bomb, concealed by grass and a saree, was found under the culvert at Alampatti near Tirumangalam, 30 km from here early this morning, police said.

Police said about 10 kg of gelatine powder had been packed in two PVC pipes, bound together. The pipes had been linked to four detonators and 12 volts battery, with a 50 metre wire.

The bomb was to be operated manually.  Police seized from the site a medical glove and found that the gelatine powder had been acquired in Nagercoil. 

Suspecting it could be the handiwork of Naxalites, who are allegedly having a base in the nearby hills in Madurai and Theni districts, police said the crude bomb was powerful enough to blow up the culvert.

An official of the Bomb Disposal Squad said,"Such bombs are common in naxal/maoist infested areas." Police detained a person identified as Nehru who is being interrogated.

The explosive was first sighted by locals, who informed the local panchayat member, who in turn alerted the police.  Following the development, police said the Yatra route of the BJP leader was changed and he travelled to Srivilliputhur, Shencottah via Virudhunagar and Sivakasi.

In Delhi, BJP spokesperson Rajiv Pratap Rudy said Advani's Yatra will continue as scheduled. He said BJP has faith in the security agencies both at the Centre and in the states.

Former BJP president Rajnath Singh said the internal security situation was becoming more grim and said the Centre should have a comprehensive action plan to deal with the challenge.

Advani started his second leg of the anti-corruption yatra from Madurai and was to reach Kerala via Srivilliputhur Tenkasi and Shencottah.

In 1998, a series of blasts rocked Coimbatore hours before Advani was to address an election rally in which 58 persons were killed and over 200 injured.