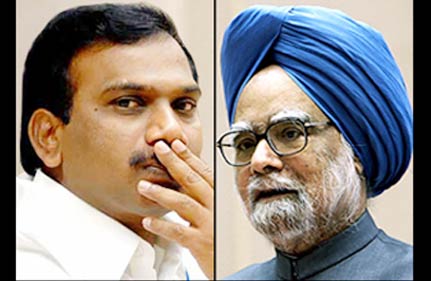 New Delhi, Nov.23: Former Telecom Minister A Raja got a friendly pat from Prime Minister Manmohan Singh while being greeted at a DMK function here, prompting BJP to say it sent a wrong signal when the Supreme Court was hearing the spectrum case.
Raja, who was standing along with other DMK leaders, greeted the Prime Minister in the DMK party office in Parliament House when he came to pay homage to former union minister Murasoli Maran on his seventh death anniversary today.
Singh patted him on his shoulder before leaving the venue. The function was attended among others by Congress president Sonia Gandhi and senior leader Pranab Mukherjee.
DMK party leader T R Baalu and his colleagues from the Lok Sabha and Rajya Sabha, besides several Congress MPs also paid homage to Maran, who served as commerce minister in the Vajpayee Government.
BJP was quick to respond to Singh's gesture saying it sent a wrong signal at a time when the spectrum case was being heard by the apex court.
"At such a time, the Prime Minister patting Raja's back at a public event would appear like a message in itself to the people and does not look good".
But the Congress was dismissive of BJP criticism. "Personal relationship and emotions do not work on switch-off, switch-on mode. Raja has worked under the Prime Minister for six years. He is a senior MP of an ally, DMK. I do not think, he (PM) has done anything wrong," party spokesperson Shakeel Ahmed told reporters.
He went on to add, "of course CAG has raised an issue and submitted its report to Parliament. But that is a separate issue," he said.
Raja, who struck a defiant note for several days, was forced to resign on November 14 in the wake of the government auditor's report that there was a loss of Rs.1.76 lakh crore to the exchequer at the rates spectrum was allocated. PTI