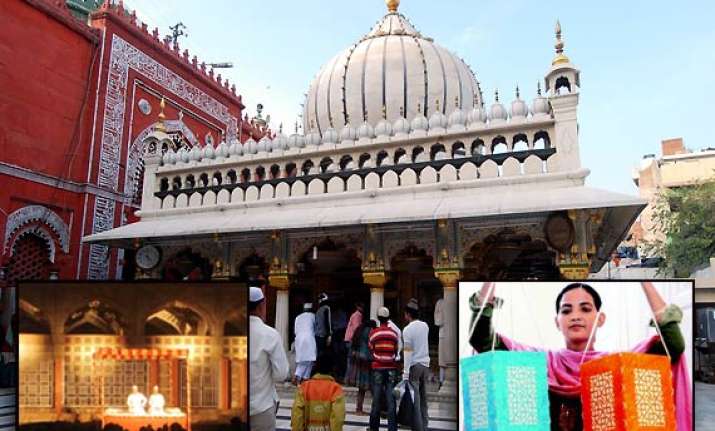 New Delhi, Nov 18: One of the oldest settlers of Delhi, people of the Nizamuddin Basti came together today to showcase their rich heritage by organising fascinating walks through the bylanes of the area, story telling and screening of movies.

Apni Basti Mela 2011, the two-day festival that promises to be a visual treat to one's eyes, began this morning in the Nizamuddin Basti area in south Delhi as hundreds of people thronged the place to have a glimpse of the heritage and culture that is centuries-old.

Nizamuddin Basti alone has 45 listed monuments and a diverse community and everyone joined hands to showcase their heritage and culture to the outside world, which has not seen it so far.

Be it screening of play on Mirza Ghalib, one of the greatest poets that the Urdu language has ever seen, or ghazal recital by Ustad Aslam Khan or the mesmerising heritage walks through the by-lanes of the area, one got a feeling of having gone to a different world full of life and culture.

The icing on the cake of the festival is the 'Sufi Walks' by volunteers that leaves one spell bound as it takes him to the monuments and tombs of sufi sants who had lived there long ago.

The other major attraction of the festival was the food court which offered authentic and sumptuous delicacies that the local people have tested and tried through the years.

Besides, performances like story telling, song and dance, qawwali, flute, magic shows and Sarangi kept the audience spell bound. Children from four to five schools were an enthralled lot as they were treated to storytelling by locals.

Not to be left behind, there were stalls that sold leather and woolen items, calligraphy, block printing and embroidery items made by the locals.

"This is also a medium to instill pride in the people and their rich heritage and the mela will serve as an interface between them and outsiders," Ratish Nanda, Director, Hazrat Nizamuddin Basti Urban Renewal Project, said.

The Aga Khan Trust for Culture (AKTC) has been involved in conservation of monuments and the rehabilitation of open spaces in the Basti with an aim to restore its intrinsic cultural, historical and spiritual significance.

Home to a number of shrines, mausoleums and baoli (step well), these are located within relatively short distances of one another in the Nizamuddin area and are well integrated with a vibrant community centered around the dargah of the 14th century Sufi Saint Hazrat Nizamuddin Auliya.