Follow us on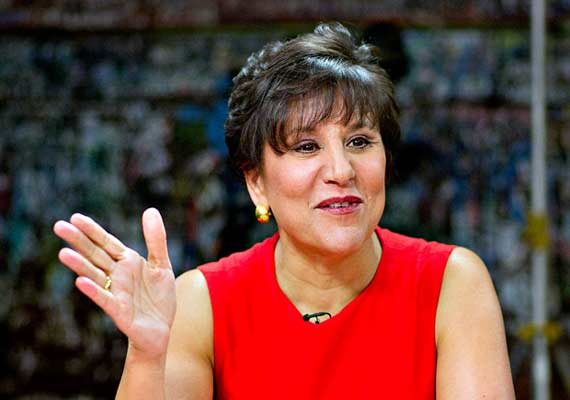 Mumbai: The 2-day India-US strategic dialogue starting tomorrow will cover a wide range of issues with focus on "early wins" that will build momentum for the expanding economic ties, US Commerce Secretary Penny Pritzker said here today.
"Our objective on the economic front is to try to re-invigorate the economic relationship between our two countries and to look for early wins where there is an opportunity for us to build momentum as opposed to focus on where the challenges are," she said.
"The conversation over the next couple of days is really wide ranging, it's a strategic dialogue," Pritzker said during an interaction with PTI after meeting captains of industry during her first visit here as Commerce Secretary. 
She will be joining Secretary of State John Kerry who is leading a high-level delegation for the annual Indo-US Strategic Dialogue with External Affairs Minister Sushma Swaraj in New Delhi beginning tomorrow.  
Kerry will also meet Prime Minister Narendra Modi.  "The fact that your Prime Minister has leaned forward to encourage foreign direct investment is something our businesses are trying to take advantage of and what we want to do is to facilitate that from a government-to-government relationship standpoint," Pritzker said.  
When asked about the slow movement on the Indo-US civilian nuclear cooperation and whether it would feature in the parleys, Pritzker said: "There is an opportunity to move it forward.
"I think there is an opportunity to look into the challenges that face that deal and also there is an opportunity to move it forward. I have talked to some Indian business leaders who think there is a way to address the challenges".
On the contentious nuclear liability clause in the amended Atomic Energy Act, Pritzker said: "It is important that there is liability protection. That is what makes civilian nuclear projects go forward around the world."
She declined however to discuss the details when asked if New Delhi's requirements on the liability front are the same as those practised around the world, saying she does not know the specifics.
The US is specifically looking at opportunities in the infrastructure and manufacturing sectors, where American firms can offer their cutting-edge technologies and know-how, Pritzker said.
She underscored the need for a "level playing field" and a right business climate.
"We want to create a business climate in India that is more open for global investment," she said during her interaction with business leaders organised by industry lobby group CII.
"Creating a level-playing field will help India attract even more investments, thereby creating more jobs and spurring more economic growth," she said.
On the contentious issue of intellectual property rights (IPR) protection, Pritzker said it goes beyond the interest of a country and the core issue is about protecting innovators' interests.
"This is about innovators, it is not about a country. It is about supporting innovation and protecting the rights of those who have brought innovative products to the market globally," she said, answering a specific query if New Delhi is meted out a tough treatment on this front.
"IPR protection is something that is important to an industry and it's necessary to support innovation and that is why it exists, that is why we have patents and trademarks," Pritzker said, adding that it is very important to have a proper framework on the enforcement of IPRs