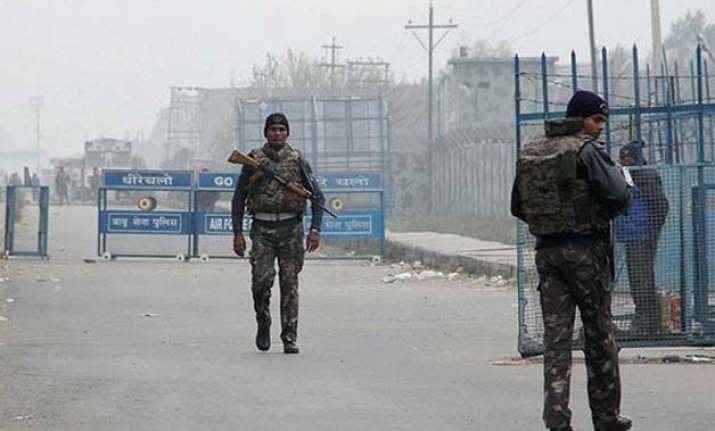 New Delhi: Ten key points top the NIA's agenda as it probes the deadly terrorist attack on the IAF base at Pathankot in Punjab that has caused fresh strains in India-Pakistan relations.
The National Investigation Agency, which took over the case on January 4 from Punjab Police, is attempting to uncover the sequence of events from the time the terrorists, believed to be Pakistanis, sneaked into India.
A 20-member team of NIA, led by an inspector general, has been camping in Pathankot to supervise the investigation.
Here is a list of 10 key points which NIA will focus in its investigation to crack the case:
1. Mobile phone conversations between the terrorists and their suspected handlers in Pakistan, a Jaish-e-Muhammad letter.
2. Ammunition the terrorists carried, their strategy, suspected involvement of locals, the route the terrorists took from the India-Pakistan border.
3. The accounts given by Gurdaspur SP Salwinder Singh, his friend and cook after their abduction by the terrorists just before the attack, and a Pathankot map found from the police officer's car.
4. Lapses by the BSF in preventing the infiltration from Pakistan into Bamiyal sector adjoining Gurdaspur in Punjab and Kathua in Jammu and Kashmir.
5. The failure of Punjab Police, which looks after the security of areas near the border.
6. DNA samples of the terrorists and their voice record samples. DNA samples of the terrorists have been sent to Pakistan for establishing their identity. Voice samples of the terrorists have also been sought by Pakistan.
7. Establishing the identity of local residents who provided army uniforms and a walkie-talkie to the six terrorists after they infiltrated into Punjab, possibly on December 30.
8. The statements of the police officer, his friend Rajesh Verma and cook Madan Gopal are being thoroughly analysed. All of them are likely to face lie detector tests.
9. The statement of the officer's personal security officer, Kulwinder Singh, has also been recorded.
10. Calls made from the mobile phone of the abducted victims are being analysed along with the number belonging to Ikagar Singh, killed Innova driver.