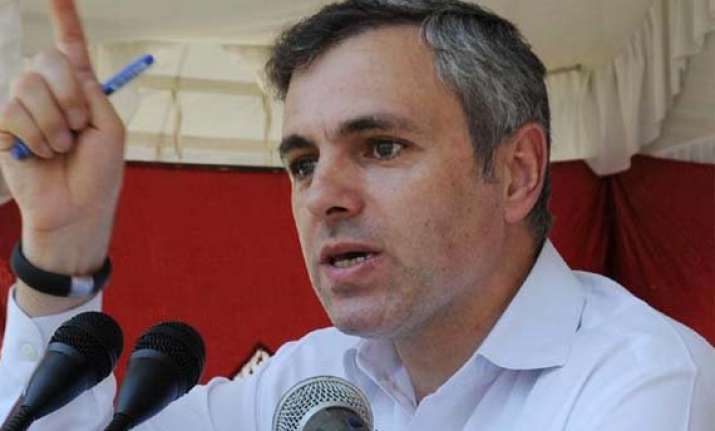 Bishnah (Samba): Jammu and Kashmir Chief Minister Omar Abdullah today said the only way for Pakistan to normalise the situation is to silence its guns, while taking a dig at Islamabad for approaching UN Military Observer Group saying complaining to a toothless body will serve no purpose.  
"The easiest way, if Pakistan wants to normalise the situation, is to silence its guns. If they stop shelling, I am sure that everyone will stop from here. And that will put an end to this," he said.
"Pakistan is deliberately targeting civilian areas that is evident from the number of the casualties that has occurred on this side," he told reporters after interacting with shelling-hit people at camps here.
The chief minister reached Jammu today and met shelling affected families in camps. He also took stock of the facilities being provided to them.
"During the ceasefire violation along the border, there have been eight deaths and more than 80 injuries, some of them are critical in hospitals, that shows the extent of shelling and seriousness of the situation.
"On our side, we are trying to minimise the casualties by evacuating the areas along the border and I believe that we have achieved fair deal of success," he said.  Omar also took a dig at Pakistan for approaching UNMOGIP.  
"UNMOGIP, you know all is a toothless organisation. It has never been able to stop any ceasefire violation at LoC or IB".
Omar said, "In 25 years of militancy including infiltration in Jammu and Kashmir when has UNMOGIP played any role in this. Kargil war happened under the very nose of UNMOGIP".
"The matter that Pakistan has gone and made a complaint to this toothless organisation, to my mind, it will serve absolutely no purpose," Chief Minister said.
On the issue of denial of flag meetings by India, the Chief Minister said, "I think decision has been taken that shelling will be matched by shelling. I am not sure, if not, talking is the answer to my mind. I could be wrong that flag meetings were meant to reduce tension".  
"If the shelling stops, then the purpose of holding flag meetings is over. Therefore, it is not my job to take a decision on it. It is the responsibility of the Centre," he added.
"On my part, I am a little concerned. If the flag meetings are stopped, then how can be bring the situation back to normalcy," Omar said.
On the issue Pakistan's allegation that India is violating ceasefire, he said "they will never change what they are. If they are serious to end ceasefire violations, let them silence their guns and I am hundred percent sure that there will be no firing from here".