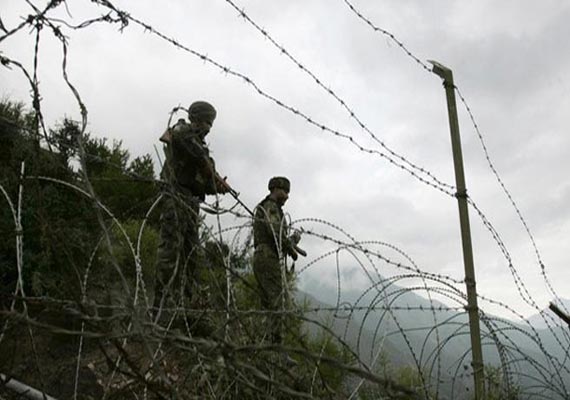 Jammu, Jul 27: One BSF jawan was injured when Pakistani troops violated ceasefire twice in the space of 10 hours today by targeting Indian posts along the Indo-Pak border in Poonch and Kathua districts of Jammu and Kashmir.
The Pakistani troops used mortars, RPGs and heavy machine guns leading to heavy firing exchanges, officers of the Army and BSF said.
With these two incidents today, the number of ceasefire violations by Pakistan in July rose to six.
"There was small arms firing by the Pakistan Rangers on forward Kothay border outpost (BoP) in Kathua district around 5 PM today", a BSF officer said.
In the firing, one Head Constable Baljeet Singh of 68 Battalion suffered injuries and was hospitalised, he said, adding the BSF troops took positions and fired back resulting in heavy exhanges which continued tonight.
Pakistani troops earlier in the day targeted Indian posts by firing rocket projectile grenades (RPGs) and heavy machine guns along LoC in Doda Battalion forward area in Poonch district since 0730 hours.
A senior Army officer while giving details of the Poonch incident said Indian troops retaliated effectively, resulting in heavy exchanges which went on for five hours.
There was no loss of life or injury to anyone on the Indian side in the firing, he said.
Top army officials are monitoring the situation in the wake of heavy firing along the border and troops have been asked in other forward areas to intensify round-the-clock vigilance.
The firing triggered panic among the people in the area, especially in Shahpur Kerni forward belt in Poonch.
Pakistan's chief military spokesman Maj Gen Asim Saleem Bajwa, meanwhile, claimed that one Pakistani soldier was killed and another injured in firing by Indian forces along the LoC.
Bajwa claimed the firing by Indian troops was "unprovoked" and had targeted Pakistani posts in Rawlakot area on the LoC.
On July 3, Pakistan violated ceasefire when it fired on cops, who had gone to LoC in Sabzian, Poonch to collect the body of a Pakistani intruder killed in IED blast on July 1.
Pakistani troops fired on troops trying to evacuate injured porters after two were killed in IED attack by Pakistani militants along LoC in Poonch on July 8.
On July 12, Pakistani Rangers fired on Indian forward posts in Pindi belt along International Border (IB) in Jammu district.
Pakistani troops opened small arms firing on Indian posts in forward area along LoC in Poonch district on the night of July 22.