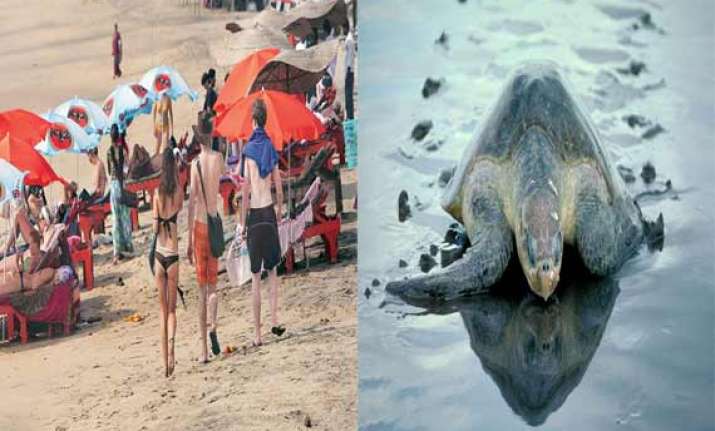 Panaji: Increase in the number of tourists is one of the reasons which has led to decline in the numbers of the endangered Olive Ridley turtle arriving on the beaches of Goa, Forest Minister Alina Saldanha said Thursday.
Along with the increase in number of tourists, Saldanha also listed night illumination of the beaches and erratic climatic changes as the other reasons for the migratory turtles avoiding beaches in Goa for their nesting sites.
She told the state assembly that in all 4,349 eggs were laid by the turtles since 2012 on three beaches namely Galgibag, Morjim and Agonda, which are traditional turtle nesting habitats.
"The department is not allowing beach shack owners and tourists to raise the sound and lights beyond limits," Saldanha said.
Olive Ridley turtles migrate thousands of miles every year to lay eggs on beaches like those in Goa and Odisha.

What is Olive Ridley?
Also known as the Pacific Ridley sea turtle, Olive Ridley is a medium-sized species of sea turtle, which gets its name from the coloring of their heart-shaped shell.
Their shell starts out as grey, but as the turtles grow the shell becomes olive green.
Smallest of the sea turtles, Olive Ridley weighs up to 100 pounds (45 kilograms) while they reach only about 2 feet in shell length.
Olive Ridley turtles migrate hundreds or even thousands of miles every year, and come together as a group only once a year for the "arribada" (mass nesting).
During mass nesting, female turtles return to the beaches where they hatched and lumber onshore, sometimes in the thousands, to nest.
During nesting, they use the wind and the tide to help them reach the beach. Females lay about a hundred eggs, but may nest up to three times a year. The nesting season is from June to December.
The Olive Ridley is mostly carnivorous, feeding on creatures such as jellyfish, snails, crabs, and shrimp. However, they do occasionally eat algae and seaweed as well.
Hatchlings, most of which perish before reaching the ocean, are preyed on by crabs, raccoons, pigs, snakes, and birds, among others. Adults are often taken by sharks.