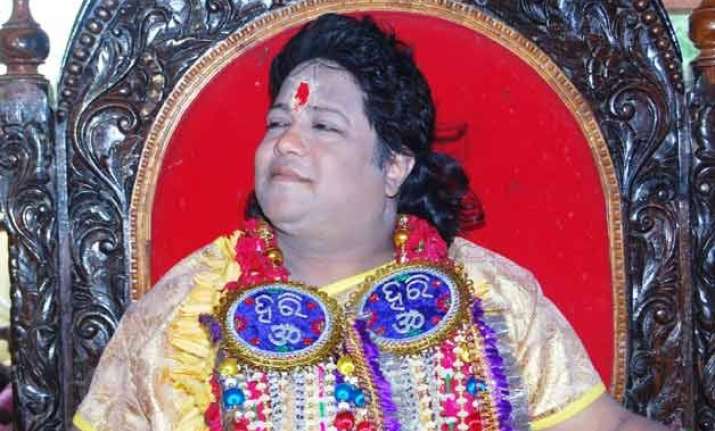 New Delhi: Amid the controversy surrounding Radhe Maa, another self-styled religious guru Sarathi Baba has hit the headlines for wrong reasons. The Odisha based godman got engulfed in controversy after a local TV channel claimed that the 48-year old 'spiritual guru' was involved in a sex scandal.
The report claimed that the godman had checked into Hotel Golconda in the posh Banjara Hills area in Hyderabad in the first week of July with a woman companion, whom he introduced as his wife at the reception. He presented his voter ID card as identity proof while checking in.
Sarthi Baba, reportedly, spent three days in the four-star hotel with the women companion.
The channel showed pictures of a man resembling Sarathi Baba which has since gone viral on social networking sites. The picture showed a man dressed in jeans and T-shirts.
After the report, state wide demonstrations against him started prompting the police to increase security of his ashram in Kendrapada. People also burnt effigies of the baba and vandalised branch offices of the ashram.
Some political leaders have also demanded the government to probe the alleged suave lifestyle of the baba.
Baba, however, has denied of any wrongdoing and blamed media for conspiring against him. "I am dismayed at the vicious slanderous campaign against me. Excepting preaching peace I have committed no crime," he said.
"Some people have been linking me with women. This is totally false and baseless. They make false allegation that I checked into a hotel in Hyderabad with a woman. I have no relationship with any woman. There is not a single complaint against me by any woman," he added.
The baba, who was earlier known as Santosh Roul, claims to be an incarnation of Lord Krishna.
This comes amid the controversy surrounding another spiritual leader Mumbai based Radhe Maa. She has been accused of instigating a woman's in-laws in demanding dowry, cheating, fraudulent practices and obscenity. Two police complains aginst her have been lodged so far.