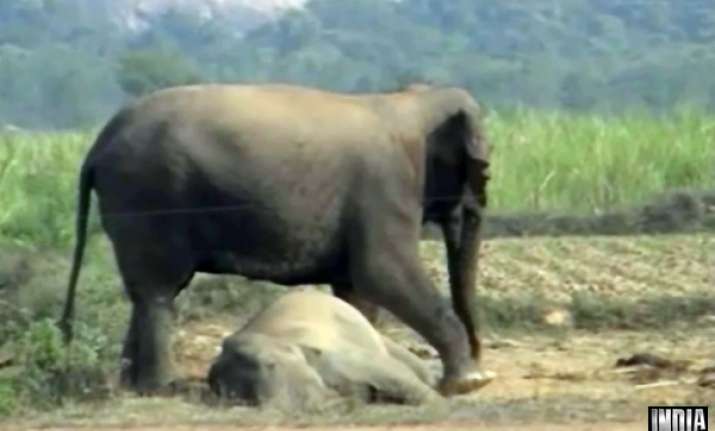 Dhenkanal/Anuppur/Nagaon, Feb 13: With human habitats closing in on the territories of wild animals, clashes between humans and wild animals are now on the increase.
Odisha: A weeping mother elephant  has been guarding her dead calf for more than 24 hours creating an emotional situation near the sugarcane fields  of Mahapada village in Dhenkanal district, Odisha, over 100 km from Bhubaneswar.
 
As usual, a herd of elephants entered the sugarcane fields on Saturday night and returned to the  nearby forests before  dawn break.  But an  elephant calf was caught  in a lie wire and was electrocuted.

The female elephant was seen guarding her calf on Sunday morning.

 
The mother elephant is not letting anyone  go close to the dead calf. She trumpets loudly and tries to disperse the crowd that tries to go close to her calf.
 
Forest officials are trying to find a way out of the impasse.
Anuppur : Near Anuppur, in Venkat nagar village of Jaitahari, a bear strayed into the fields and killed two farmers, Madan Yadav and Ravi Yadav.
 
Villagers stoned the bear and called in the police.

As police constable Sudhir approached the farmer's dead body, the bear attacked him.


Villagers, armed with burning sticks, burnt the bear, which began to run.
 
As the constable again reached the farmer's body, the bear attacked him again, and this time constable  tore the jaw of the bear, which was on fire.

The bear died on the spot.
Nagaon: A rhino strayed from Kaziranga national park into Bamuni village on Sunday, and injured five animals.

After eight hours of efforts, and with forest officials firing 18 rounds in the air, the rhino returned to the national park.