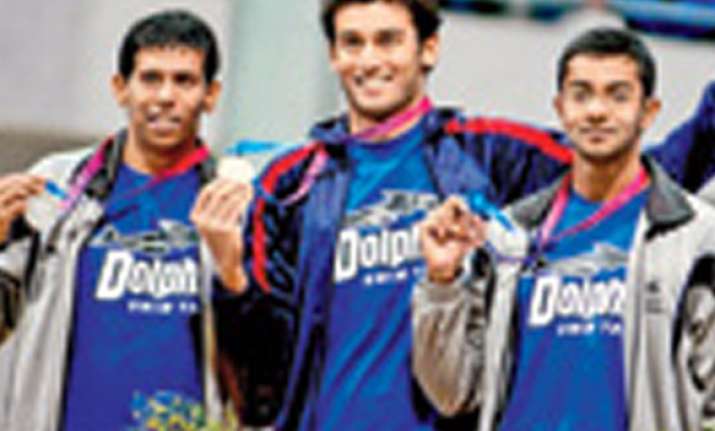 Ranchi, February 17  :  An overwhelming performance by its gymnasts and swimmer Virdhawal Khade's double gold effort propelled Maharashtra to the top spot in the medal standings at the end of the fifth day in the 34th Asian Games here today.
Inspite of the performances on the field, today's cynosure of all eyes, however, was Uttar Pradesh athlete Priyanka Panwar, whose parents accused an Athletics Federation of India official, Anu Kumar of sexually harassing their daughter.
Unaffected by the episode, Priyanka won the bronze in the women's 100m as Sameer Mon of Services and H M Jyoti of Karnatka emerged as the fastest sprinters of the National
Games in the men's and women's sections respectively. Maharashtra girls won six gold medals in the team and individual competitions of the rhythmic gymnastics, while
Indian swimming sensation Khade hogged the limelight in pool with two gold bagged in record timings to help the state upstage Manipur from the top spot.
The day saw five records in swimming with Khade picking his fifth gold in total, while athletics saw one record by local lad Gurmit Singh in the 20km walk.
Riding on some fine performance by their shooters and athletes, Services Sports Control Board shot themselves to the second spot.
Maharashtra now have 22 gold, 25 silver and 22 bronze medals, while Services too have an equal number of gold but with 17 silver and 16 bronze they occupy the second spot.
Delhi are at the third place with 20-12-14, while overnight leaders Manipur slipped to fourth position with 19-10-14.
In the gymnastics, a team record score of 182.80 points helped Maharashtra clinch the first gold medal and the state's Shate Akshata emerged top in all round individual championship -- both competitions being held late last night.
Today, Akshata and Kshipra Joshi began with a bang winning two gold medals each in their rhythmic events. Thus Akshata became the first gymnast in this National
Games to win three yellow metals.
However, both the gymnasts failed to repeat their performances with Akashata finishing third in ball (17.583) and Kshipra getting the bronze in the Ribbon (16.525).
Kshipra also got a silver in the all round individual rhythmic championship while Jammu and Kashmir's Mitali finished third in the event. Punjab's Prabhjot Bajwa won silver medals in rope and ball events and ended up with a bronze in the hoop.
Kshipra finished second and third in rope and ribbon events respectively while state-mate K Sadhichha won silver in the hoop event. Jammu and Kashmir and Punjab bagged silver and bronze medals in the team championship of the rhythmic gymnastics. PTI