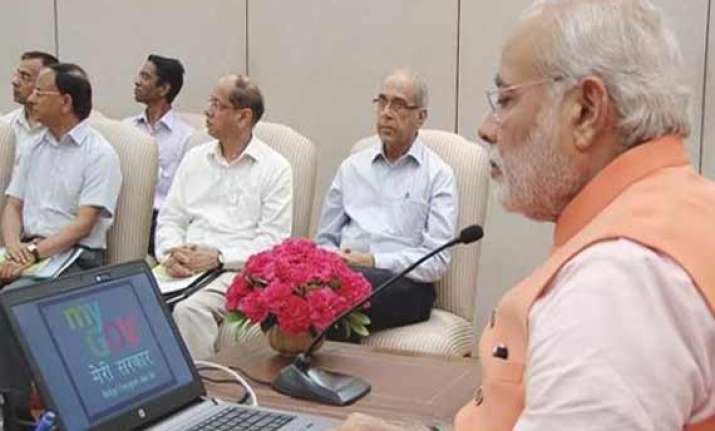 New Delhi: Prime Minister Narendra Modi on Saturday launched 'MyGov', an online platform that empowers the citizens of India to contribute towards 'Surajya' (good governance), to mark the completion of sixty days of the BJP-led NDA government at the Centre.
Speaking on the occasion, the Prime Minister said the success of democracy is impossible without participation of the people.
Sharing the experience of his sixty days government, he said there were many people who wanted to contribute towards nation-building and devote their time and energy.
In the past, there was a big gap between the people and the processes of governance, he said.
"The only thing they (people) required was an opportunity to shine and showcase their contribution," the Prime Minister said.
The Prime Minister said the 'MyGov' platform is a technology-driven medium that would provide this opportunity to contribute towards good governance.
"Let us join this mass movement towards 'Surajya', realize the hopes and aspirants of the people and take India to greater heights," Modi was quoted as saying on mygov.nic.in
He also expressed confidence that the people would welcome this initiative.
Modi said that he is looking forward to receiving the suggestions, views and ideas of the people to strengthen and improve the functioning of his government and also of this platform.
He hoped that everyone would join hands through this platform to take the country forward and to meet the aspirations of the poorest of the poor.
He said he was confident of success in this mission, because he recognized the strength and capability of 125 crore Indians.
About 'MyGov'
The platform 'MyGov' presents an opportunity to the citizens to both 'Discuss' and 'Do.' There are multiple theme-based discussions on 'MyGov' where a wide range of people could share their thoughts and ideas. Further, any idea shared by a contributor will also be discussed on these discussion forums, allowing constructive feedback and interaction.
National Informatics Centre (NIC), Department of Electronics and Information Technology (DeitY) would implement and manage the 'MyGov' which would facilitate citizen engagement in good governance.
Minister for Communication and IT, Law and Justice, Ravi Shankar Prasad, and senior officers of the government were also present at the launch of 'MyGov'.