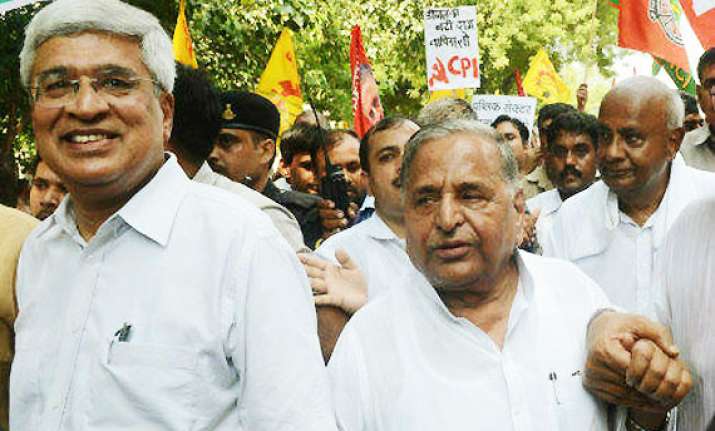 Etawah(UP): Samajwadi Party supremo Mulayam Singh Yadav today said that he will be meeting CPI(M) General Secretary Prakash Karat later this month and hold discussion on the possibilities of a Third Front.
"Karat has invited me to attend the meeting at Talkatora in Delhi on October 30. I will attend it. Some other big leaders will also attend the meeting, but I will not take their names," he said.
Yadav noted that despite the polls just months away, it is not clear who will form the next government at the Centre and in such a scenario, there is a strong possibility of the emergence of a Third Front.
Speaking after launching a plantation campaign under country's first Lion Safari project in his hometown here, the SP supremo said his party has always fought against the communal forces and weakened them.
Mulayam said that his party's main struggle is against the BJP, and claimed that communal forces are rising their head to negate the increasing popularity of SP regime in Uttar Pradesh.
Mulayam said the 'Hamari Beti Uska Kal' scheme of the state government, under which a financial assistance of Rs 30,000 is being given to girls belonging to the Muslim community, is a step towards implementation of Sachar Committee report for the betterment of Muslims.
The SP supremo said that power crisis in the state will exist only for next one-and-a-half years and after that, there will be adequate availability of electricity in the state.
Had the previous Mayawati government paid attention to this sector, such a situation would not have arisen, Mulayam alleged.
On the Lion Safari project, Mulayam hoped that it would be one of the most beautiful in the world.
Chief Minister Akhilesh Yadav said that after facing many hurdles, the project is going to get completed. He said the work of bringing lions here will start from February next year.
The Chief Minister said the government will soon start recruitment in various departments, including the police and education departments.