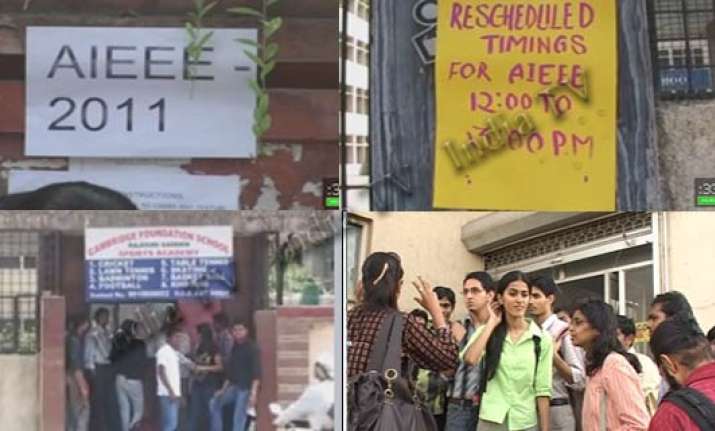 Lucknow, May 1 : The Special Task Force of Uttar Pradesh claimed that its officials were already having the AIEEE question papers with them on Saturday night, hours before the countrywide exam was due to begin at 9:30 am on Sunday, officials said. The question paper was being sold like hot cakes on Saturday night for Rs 6 lakhs a piece, said an official.
 
An official of STF, on condition of anonymity, said that the question papers were leaked by somebody from Kanpur, and the STF was on the trail of the two masterminds behind this leak.
 
The STF officials raided several places in Lucknow and Kanpur and detained some persons but the masterminds are reported to be still at large, the official said.
 
Special DGP of UP Police Brij Lal said, two persons have been detained and the investigation was on.
 
The AIEEE question papers were leaked in Uttar Pradesh and reportedly sold for Rs 6 lakh forcing CBSE to postpone the test taken by over 12 lakh students across the country today by three hours and provide them with fresh set of questions.

Immediately after the question papers of the All India Engineering Entrance Examination (AIEEE) were leaked, CBSE postponed the two exams which were scheduled to begin at 9:30 AM and 2:00 PM today, a senior HRD ministry official said here.

"Fresh set of questions were distributed to students", said CBSE chairman Vineet Joshi, adding, an enquiry will be conducted into the incident and those involved will be punished.

"When we got to know (about the leak) in the morning, our aim was to do it without causing much inconvenience to most of the children... ", Joshi said.
Nearly one lakh students from 20 cities will take the examination online.AIEEE is conducted to gain admissions into National Institutes of Technology and other engineering colleges in the country.  

According to a senior official with CBSE, the nodal agency for AIEEE, about 11 lakh students will write the examination with pen and paper and the rest will take the test online at over 1,600 centres in more than 80 cities across the country. Those taking the test for BArch and BPlan will write Paper 2.

In Paper 1 BE, BTech aspirants will answer objective-type questions in physics, chemistry and mathematics. Paper 2 will comprise questions in mathematics, aptitude and drawing to ascertain skill in illustration.

The results are expected to be released on or before June 7 after which students will attend counselling for various institutes.

The test will be for approximately 26,816 seats for BE, BTech and 936 seats for BArch, BPlanning in institutions across the country, including National Institutes of Technology (NIT), Indian Institutes of Information Technology (IIITs), deemed universities, technical institutions, Delhi Technological University, New Delhi and other government-funded institutions.

In Chennai, the postponement of the All-India Engineering Entrance Examination (AIEEE) by a over two hours today due to leaking of question paper in Uttar Pradesh had its repercussions  with confusion prevailing for some time after students were not allowed into exam centres without assigning any reason.

Many students and their parents, especially those who had come from far-off places, protested in front of exam centres in the city as officials did not allow them to enter the premises in the morning without citing any reason.

The CBSE  had reschduled the exams to 12 pm (from 9.30 am) and 7 pm (from 2pm).

Anxious students and parents complained that officials had not revealed any information on the delay initially.

Ravikumar, who accompanied his daughter to an examination centre, said while they were waiting since morning, officials had informed of the postponement quite late.

Question paper of the AIEEE, basis for admission into National Institutes of Technology and other engineering colleges, were leaked in UP, forcing the CBSE to postpone the test taken by over 12 lakh students across the country and provide them with fresh set of questions. PTI