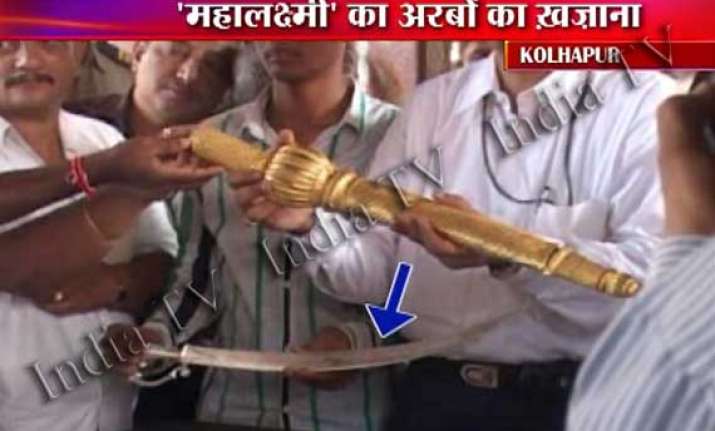 Kolhapur, Jun 9: Authorities at Kolhapur's Mahalakshmi temple opened the temple's treasury and begin counting. 
This 900-year-old temple could soon be India's 4th richest temple of course, after the Padmanabhaswamy Temple, Tirupati Balaji, and Shirdi Saibaba Temple.
The exercise is likely to cause much excitement among the devotees, who would be eager to know the worth of the valuables possessed by the temple trust, especially in the wake of the massive wealth discovered in the Kerala-based Padmanabhaswamy Temple.
The temple threw up a treasure trove of about Rs. 1.18 Crore treasure which included antique gold ornaments, diamonds and other precious stones, golden crown, golden bow, golden vessels.
This is one of the six abodes of Shakti, where one can achieve both fulfillment of desires as well as salvation from them.  
It is therefore considered to be of greater significance than Uttar Kashi.  
Construction of the temple was initiated in 7th century by Chalukya rulers and further beautified by Yadavas till 9th Century AD. Garuda Mandap used for concerts by renowned artists was built in 1838 AD.