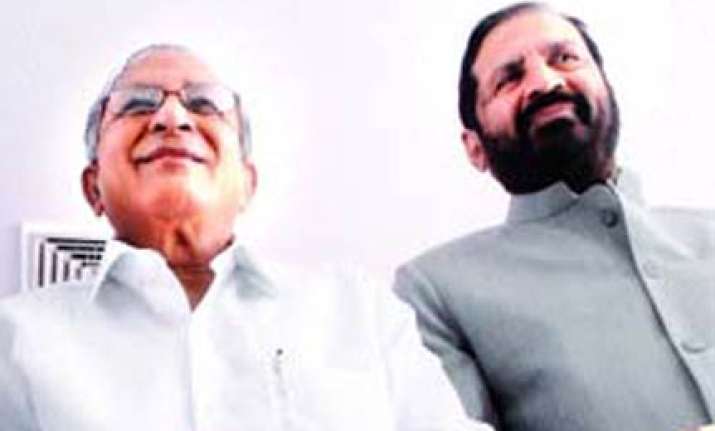 New Delhi, Oct 17 (PTI) The beleaguered organising committee chairman Suresh Kalmadi today met Urban Development Minister Jaipal Reddy, who also heads the group of ministers for Commonwealth Games, but what exactly transpired in the closed-door meeting was not known.
'He (Kalmadi) did meet me. It was a Dussehra festival greeting," Reddy told PTI.
The meeting gains significance as it comes a day before the GoM convenes its first meeting after the Games tomorrow.
'The GoM is meeting tomorrow on the Commonwealth Games. This will be the first meeting of the GoM after the conclusion of the Games," a sources said.
Kalmadi's meeting comes a day after being snubbed by both Prime Minister Manmohan Singh and UPA chairperson Sonia Gandhi, who didn't invite him while felicitating the Indian medal winners of the Commonwealth Games.
The Prime Minister had interacted with the medal winners on Friday, while Sonia Gandhi had called them to her residence yesterday but on both the occasion, Kalmadi was left out.
The Delhi Chief Minister had also, in an interaction with PTI journalists, said that the "suspicion" of corruption in the Commonwealth Games is on the Organising Committee headed by Suresh Kalmadi.
Dikshit said the corruption could have taken place in the activities undertaken by the Organising Committee to which the Central government had given loans to the tune of Rs 1,600 crore.
She had said the "real corruption seems to be with regard to the money given as loans (to the OC)".
Kalmadi had come under fire in the controversial run-up to the Games, which was marked by a series of corruption charges, mismanagement, leaking roof and collapse of footbridge. PTI