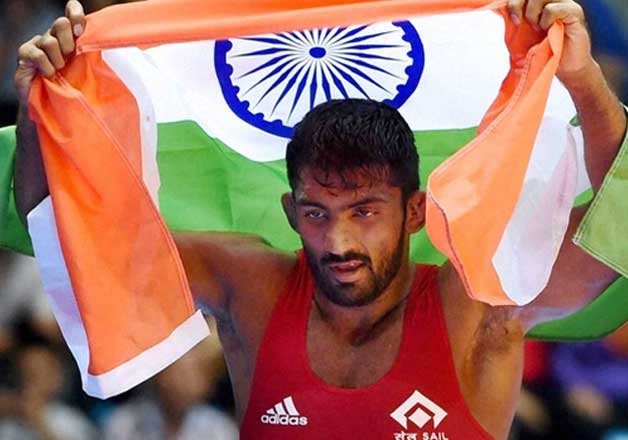 New Delhi: Olympic medalist and star wrestler Yogeshwar Dutt has asked what kind of freedom of speech this is where people are disrespecting mother India.
In an elaborate facebook post, Dutt further asked if Afzal Guru was a martyr, what would people call Hanumanthappa. How could you become the enemy of the country where you are born."
Scuffle broke out as the protesting lawyers shouting "Bharat Mata ki Jai" ordered the Jawaharlal Nehru University (JNU) students and journalists out of the courtroom, witnesses said.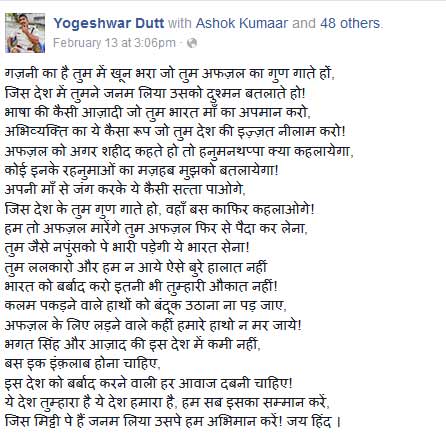 Teachers representing 40 central universities as well as faculty from the Pune-based FTII had come out in support of the agitating students saying it was an issue of "indiscipline" and not "sedition".
Kanhaiya Kumar , president of the JNU student's union is in police custody in a sedition case for allegedly shouting pro-Pakistan slogans at an event in the campus.
Earlier on Monday, Delhi Police Commissioner BS Bassi claimed that Kanhaiya had raised anti-national slogans during the controversial event.
"Kanhaiya was present at the event. He delivered a speech and participated in an unlawful assembly which indulged in anti-India sloganeering. It was because of his involvement and the evidence we have collected so far that he has been arrested under charges of sedition," Bassi told reporters after meeting Home Minister Rajnath Singh.