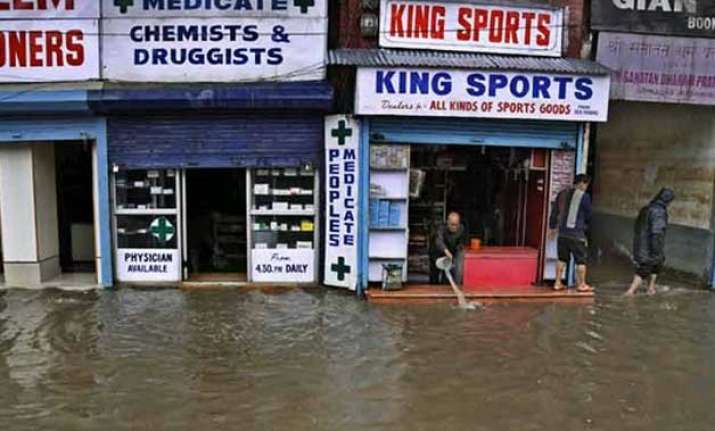 New Delhi: Jhelum river today crossed the danger level in Srinagar and Sangam area of South Kashmir following heavy rains.
 Jammu and Kashmir government has sounded flood alert in the state.
Two NDRF teams comprising 100 personnel have been rushed as part of contingency measures in Jammu and Kashmir. Meanwhile, Prime Minister has deputed Union Minister Mukhtar Abbas Naqvi to Kashmir for assessment of flood situation.
The two National Disaster Response Force (NDRF) teams, comprising about 50 personnel each, were taken in an IAF plane from Bhatinda in Punjab to Srinagar.
"We have pre-positioned two of our teams in the Kashmir Valley in order to combat any situation in the wake of flood alert.
"Four other teams at Ghaziabad and Bhatinda will be on standby," NDRF Director General O P Singh told PTI here.  The DG said there was no need to panic and the force along with the state government is putting in all measures to tackle a possible flood situation.
"There is no flooding as of now. There is some water logging in areas of Kashmir Valley. It is good news that there have been no rains for a couple of hours now in the state," he said.
However, the IMD has predicted rains in the next 2-3 days.
"The situation is not bad and we are all ready to tackle any situation," he said.
Singh said the teams which have been airlifted are equipped with communication, rescue and retrieval gadgets as per the standard operating procedures to combat flood situations, he said.
The NDRF had played a vital role along other defence forces in undertaking massive relief and rescue operations last year when Kashmir Valley was inundated in the worst-ever floods in the history of the state.
A government spokesman yesterday night said that people living on the banks of the river Jhelum have been asked to remain alert and vigilant. Old persons and children have also been advised to move to safer places or camps that have been established in the Valley.
Officials today morning informed that Jhelum river has crossed danger mark in Srinagar and Sangam area of South Kashmir.
A senior official said water level of river Jhelum at 6 AM at Sangam (South Kashmir) and Ram Munshi Bagh (Srinagar city) has touched 22'.4 feet and 18'.8 feet respectively. Danger level at Sangam is 21 feet and at Ram Munshi Bagh it is 18 feet.
He said all the employees deployed for flood control duty have been asked to report to their duties immediately.
If the water level breaches 23 feet mark, the state will have to undertake a massive rescue operations and evacuate people from areas adjoining the river.