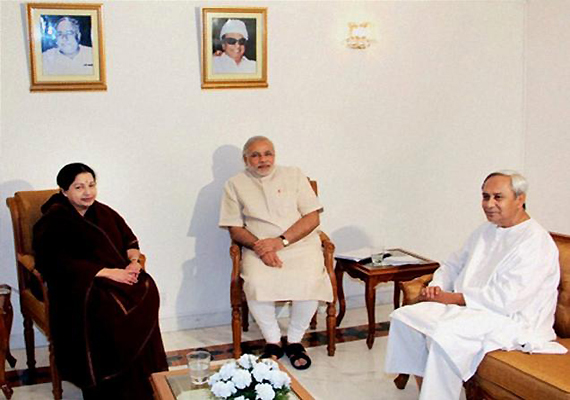 New Delhi, Apr 16: United by their opposition to the proposed National Counter-Terrorism Centre, Chief Ministers of Gujarat and Odisha, Narendra Modi and Navin Patnaik, on Monday met their Tamil Nadu counterpart Jayalalithaa in New Delhi to mount pressure against the Centre's move.
Mr. Modi and Mr. Patnaik met Ms. Jayalalithaa at the Tamil Nadu House separately after attending the Chief Ministers' Conference on Internal Security convened by Prime Minister Manmohan Singh.
Mr. Patnaik was the first to meet Ms. Jayalalithaa for over 25 minutes. After the meeting, Mr. Patnaik refused to divulge what transpired at the meeting, merely saying it was a courtesy call as Ms. Jayallithaa is an "old family friend of my father."
Soon after, Mr. Modi met Ms. Jayalalithaa for 40 minutes and refused to speak to the waiting media. Ms. Jayalalithaa also did not speak to the media.
All the three leaders have been against the setting up of the NCTC and have expressed their displeasure in public several times. Ms. Jayalalithaa and Mr. Modi had written to Dr. Singh in this regard.
There was no official word on Ms. Jayalalithaa's meetings with Mr. Modi and Mr. Patnaik. However, it is understood that the leaders discussed a joint strategy to target the Centre on NCTC and various other issues.
The meeting assumes significance as non-Congress State governments are opposing the creation of a counter-terrorism centre and proposed amendments to the BSF Act, maintaining that the two infringe upon the States' rights in a federal set up.
Earlier, at the meeting, Ms. Jayalalithaa warned against an "emerging pattern" wherein the State's powers are "abrogated" by the Centre through passage of bills and accused it of showing "scant respect" for State governments.
Punjab Deputy Chief Minister Sukhbir Singh Badal was also scheduled to meet Ms. Jayalalithaa, but could not make it as he got delayed at the conference.
Expressing similar sentiments, Mr. Modi criticised the Centre for its "non-consultative" approach with the state governments on key security issues and accused it of creating "state within state" by bringing amendments to RPF Act, BSF Act which take away powers from the state police and meddling with subjects under the State list.
In his address, Mr. Patnaik sought urgent consultations between the Centre and the States over issues like the NCTC, saying any delay would affect handling of law and order.