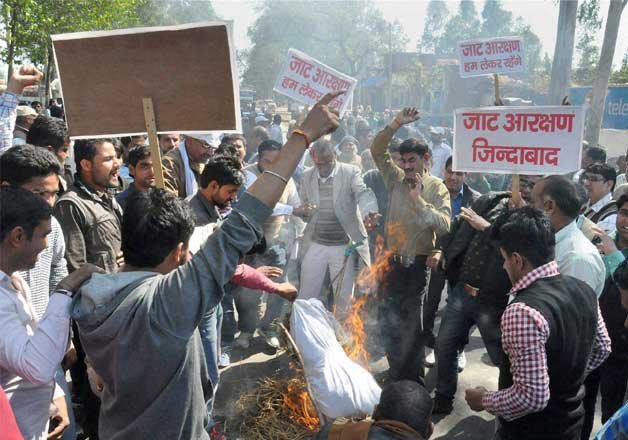 Chandigarh: Haryana continued to grill today as the ongoing agitation by Jats over quota demand entered its ninth day with the death toll now rising to 19. Violence continued and some areas remained tense despite leaders calling for an end to the agitation after the government promised meeting all their demands. 
Meanwhile, the violent protests also echoed in eastern Rajasthan where protesters damaged two buses and blocked railway tracks and highway, prompting the district administration to impose prohibitory orders. 
On Monday morning, angry protesters burnt down a roadways bus near Dhormui oil depot and damaged another bus in Sewar area. The impact of the fresh spate of violence could also be seen on trains. "Deeg, Jaipur and Mathura highways and Jaipur and Mumbai railway tracks are closed," Additional SP Bharat Lal Meena said.
Compensating for the loss of the family members of the deceased, the Haryana government announced an ex-gratia of Rs 10 lakh to the kin of the 19 killed, Haryana's Parliamentary Affairs Minister Ram Bilas Sharma said today.
Employment to one family member has also been guaranteed by the state government with the promise of no false cases getting registered against anyone, he added.
According to officials, a total of 19 persons have so far lost their lives in the agitation and 183 were injured. Also, 320 cases have been registered and 102 persons have been arrested.
Sharma said that the government has also decided to assess the role of all officers, both civil and police administration, for any act of omission and commission during the agitation.
The Cabinet reviewed the prevailing situation and the steps to defuse the tension across the state at the earliest.
An official release said while blockades at several places have been lifted, efforts are on to remove the remaining 449 blockades on rails and roads.
The Haryana Roadways has suffered a loss of Rs 15 crore  as 33 buses have been set on fire and 99 others damaged, the release said.
As the Indus company, which operates towers of telecommunication in the state, is facing shortage of diesel, the mobile phone service can be affected in the state, it added..
Out of 2,370 petrol pumps in the state, 381 have become dry. And out of 387 LPG agencies, 185 are without their stock, the release said adding the state government is trying to ensure their supply through Punjab.
Out of 26 petrol pumps damaged in the agitation, eightare in Rohtak, five in Bhiwani and six in Jhajjar. However, there is no shortage of kerosene in the state, the release added.
(With PTI inputs)