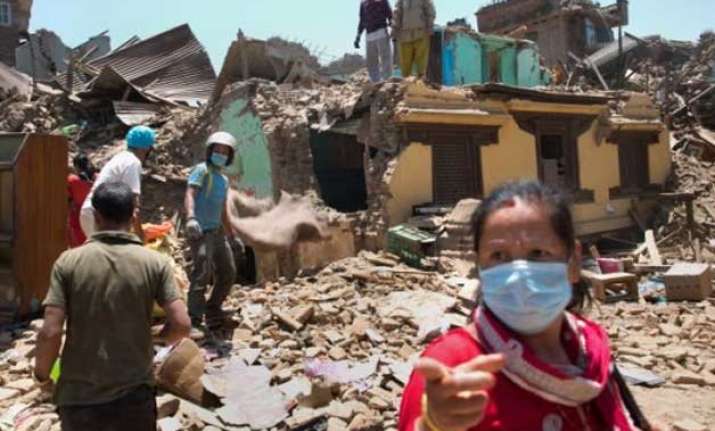 India has embarked on a futuristic lifeline project that can help save hundreds of thousands of lives in the event of a big earthquake. While science today does not permit accurate forecasting of earthquakes, issuing an early warning is still a possibility when an earthquake begins.
In a queer geological trait, most earthquakes first trigger a fast moving but non-lethal wave and a few moments later do the massive deadly wave that causes the real shaking and damage. This tiny window, if tapped accurately, can help in providing a suitable early warning of an earthquake.  Take the case of Delhi. Experts say up to a 90-second early warning can be provided if a massive earthquake with an epicentre in Uttarakhand were to hit in the Himalayas.
This alert of an impending shaking sometimes called a 'shake alert' can help people take shelter or at least run out to open ground. Similar early warning systems already operate in Japan, China, Taiwan, Turkey and Mexico.  If everything goes according to plan, India could also launch a similar system once the pilot experiment is successful. The first trials of the Indian experimental system are expected to be done next month.
The series of huge earthquakes and aftershocks in Nepal have brought home the massive risk most of the north Indian cities face from temblors that may originate in the Himalayan region.
In a 2007 assessment, the National Disaster Management Authority (NDMA) found almost 59 per cent of India 'vulnerable to moderate or severe seismic hazards'.
Vinod Gaur, an earthquake specialist and former secretary to the government, estimates that if there is a repeat of the 1905 Kangra earthquake which was of 8 magnitude, almost 2 lakh fatalities could be expected.
Unfortunately, scientists neither in India nor elsewhere in the world fully understand what happens deep below the Earth and what sets off an earthquake as a consequence accurately predicting an earthquake is nearly impossible today.
R K Chadha, a seismologist and Chief Scientist at the National Geophysical Research Institute, Hyderabad, says, "Ironically we know more about the surface of the Moon and Mars, than about the geological forces within the Earth's crust right below our very feet."
The Ministry of Earth Sciences in 2013 provided a three-year grant of Rs 3.75 crore to the Department of Earthquake Engineering at the Indian Institute of Technology, Roorkee to conduct a pilot study for developing an earthquake early warning system.
According to Prof Ashok Kumar, an earthquake instrumentation specialist and the person spearheading the project, 52 of the 100 proposed special earthquake sensors have already been deployed on the ground between Chamoli and Uttarkashi and preliminary data is already being received by the computers in Roorkee.
"Technologically it is not a big deal to do it", Kumar says, but implementing it at the societal level where the response time has to be in seconds is a different challenge altogether. Conducting drills will help prepare for the worst case scenario.
Kumar and his team of 8 scientists have installed a dense network of earthquake sensors mostly at the base of Bharat Sanchar Nigam Limited (BSNL) mobile phone towers and data is transmitted to a control room in Roorkee using the existing BSNL optical fibre network.
These accelerometers detect what is called the 'P' wave that is generated when an earthquake begins. In the soils of north India the benign 'P' waves usually travel at a velocity of about 6 km per second, in contrast the highly damaging 'S' wave travel much slower at about a velocity of 3 km per second.
Kumar asserts that if an earthquake of magnitude 6 or above were to take place in Chamoli which is at a distance of about 300 km from Delhi, the destructive 'S' waves would take almost 90 seconds to hit the capital. A highly automated system can provide an early warning of about a minute to the 25 million residents of the national capital region.  Similarly residents closer to the epicentre will get lesser lead time so according to Kumar, Dehradun would get an early warning of up to 37 seconds, while Meerut would get an early warning of up to 70 seconds.
To avoid too many false warnings the system can be so designed that it would kick in only when an earthquake of magnitude 6 or above strikes and has potential to cause damage in India.
The catch, Kumar says, is until such time as the entire Himalayan region is seeded with sensors, the current pilot project would help only if an earthquake happens in the 100 km by 40 km zone where his network is operational.  Shailesh Nayak, a geologist and Secretary of the Ministry of Earth Sciences, New Delhi, says an earthquake early warning system "can save thousands of lives", and operationally implementing it after the pilot phase is successful is a "very feasible option".
Nayak says all it takes is a few seconds to rush out to safety to avoid being caught in a building or to take suitable cover in a high-rise building. An old dictum of city planners says "earthquakes don't kill, it is badly made buildings that kill people".
"Yes the response time is very-very short" but it is doable, says Kumar.
India already operates a 24x7, all year round Indian Tsunami Early Warning Centre in Hyderabad that was set up in response to the devastating 2004 Indian Ocean tsunami. The 15-member centre that has an annual budget of Rs 20 crore has already detected 16 tsunami genic events or underwater earthquakes that could result in a potential tsunami in the past 8 years and to its credit, it has never issued even a single false warning.
Nayak says giving an early warning for a tsunami is not easy but here the minimum response time and early warning lead time is up to 60-90 minutes, the big challenge for earthquake early warning system is to do a similar exercise but within seconds.
With more than 900 million mobile phones and more than 100 news channels if the country decides, issuing an earthquake early warning is certainly doable says Kumar.  Already the government issues cyclone and tsunami warnings to users on demand.
Experts say a special ringtone; automated SMS's and an alarm system can help alert people of the impending danger. If nothing else 'cascading catastrophes' could at least be avoided if an earthquake early warning system can at least bring to a halt trains, metros, hazardous industries and nuclear plants.
It is the need of the hour, suggests Harsh Gupta, a noted seismologist and former member of the National Disaster Management Authority, New Delhi since "it is not if but when" a very-very big earthquake strikes the Indian land mass and all Indian cities from Amritsar to Aizawl are at massive risk.