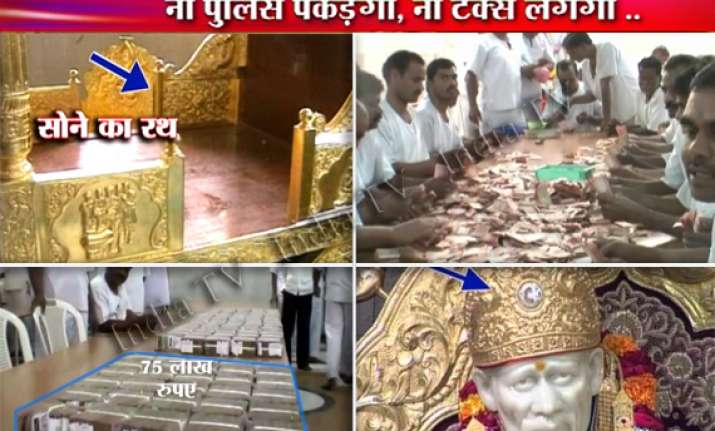 New Delhi, Apr 6: Lord Venkateswara temple in Tirupati, Andhra Pradesh, attracts millions of Hindus from all over the world. Likwise, the famed Sai Baba shrine in Shirdi, Maharashtra attracts millions of visitors throughout the world.
People believe that there will be a turning point in their life if they go to Tirupati and  Shirdi, while many others undertake thanksgiving trips to these shrines.  
But the problem with authorities is that black money in crores in the form of cash and gold is puring into the kitties of these cash-rich shrines. 
It's an open fact that many rich businessmen visit these shrines to donate a part of their ill-gotten money to wash away their sins and clear their conscience.
Lots of wealth has accumulated for many centuries in these shrines from these offerings. The jewellery alone in Tirupati temple is said to be worth  Rs.50,000 crore. This temple is considered the richest Hindu temple in the world.
The Tirumala Tirupati Devasthanam (TTD) found itself in a piquant situation after having discovered that some of those who donated gold turned out to be bogus donors . Till now, over 100 kg of gold has landed in TTD kitty, for use to goldplate the walls of the temple. 
During a recent visit, former Karnataka Tourism Minister Janardan Reddy had donated a 16 kg gold crown studded with diamonds.  
The annual earnings of  Tirupati temple is around Rs 1700 crore.  
Second in the list comes Shirdi Sai Baba shrine in Maharashtra's Ahmednagar district that has received 36 kg of gold and Rs 401 crore in cash towards donations in year 2011.
A Hyderabad businessman had gifted a throne made of solid gold to the Sai Baba Temple. Weighing 95 kg, this throne is made of 95 gold bricks rolled out into a gold sheet.  
The value of gold, silver ornaments and coins belonging to Shirdi Sai temple is nearly Rs. 40 crores.  
The temple has Kisan Vikas Patra, savings bonds, bank deposits which are valued at Rs. 450 crores.  
The annual income of Shirdi Sai Trust was Rs. 65 crores in 2004 and has reached to Rs. 300 cores now. The total property of Shirdi Sai temple is more than Rs. 1,000 crores.