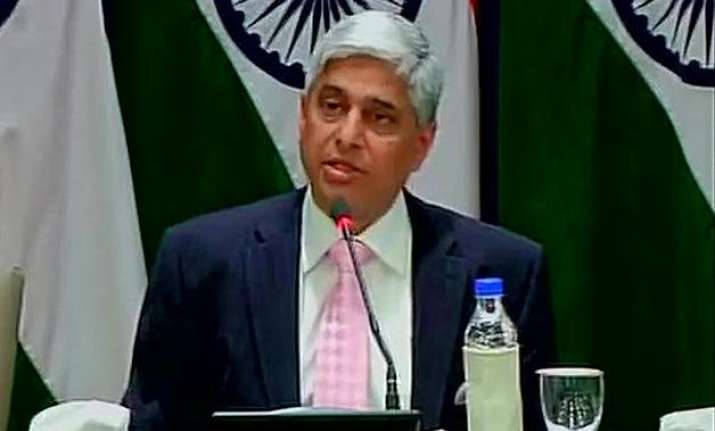 New Delhi: India today said it hopes that Pakistan government will deliver on the promises made by it during meeting between Pakistani PM Nawaz Sharif and US president Barack Obama.
Asserting that the statement devotes considerable space to the issue of terrorism and that it was for the first time that Lashkar-e-Taiba and Haqqani network are specifically mentioned in it, Spokesperson in the External Affairs Ministry Vikas Swarup said, "We hope that they deliver on these commitments."
"Terrorism naturally comes to mind when talking about Pakistan. The US-Pak joint statement devotes much space to it," he added.
When asked to comment on Pakistan's newly appointed National Security Advisor General Naseer Khan Janjua, a retired Army General, Swarup said, "It's Pak's internal matter who they appoint as their NSA, as far as we are concerned we are open to NSA level talks as decided in Ufa."
The US-Pakistan joint statement which was issued yesterday during Sharif's visit to Washington said, "The two leaders expressed concern over violence along the Line of Control, and noted their support for confidence-building measures and effective mechanisms that are acceptable to both parties."
"The leaders emphasised the importance of a sustained and resilient dialogue process between the two neighbours aimed at resolving all outstanding territorial and other disputes, including Kashmir, through peaceful means and working together to address mutual concerns of India and Pakistan regarding terrorism," the statement further added.  
Noting that two organisations are specifically mentioned -LeT and the Haqqani network- both are operating out of Pakistan and even Pakistanis do not deny it, the Spokesperson said, "In fact, this is precisely why it was a subject of discussion between Obama and Sharif.  
"Obama has significantly also raised concerns about US nationals being held hostage by terrorist groups in that region. It is for the first time and LeT and Haqqani network are specifically mentioned in the US-Pak joint statement."
In this regard, he also referred to the India-US joint statement last year when the two sides agreed to joint and concerted efforts to disrupt entities such as LeT, Jaish-e -Mohammed, D company and the Haqqani network.  "There is consistency in the US focus on LeT and Haqqani network," he said.