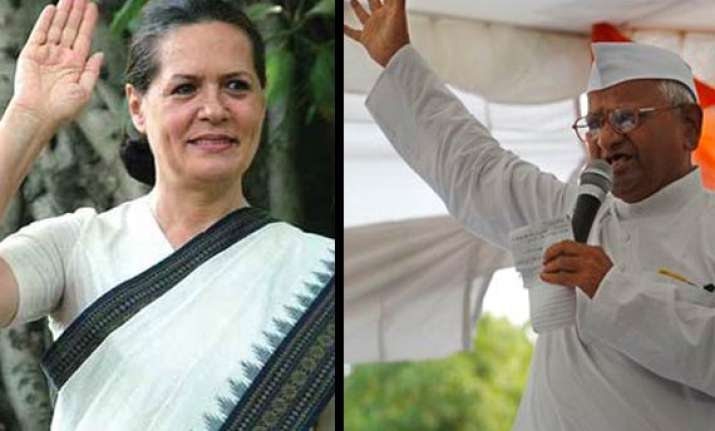 Nashik, June 12: Gandhian activist Anna Hazare has written a letter to Congress president Sonia Gandhi requesting her to ask her leaders not to indulge in character assassination.

In his letter, Hazare has said, 'responsible people in your party are unnecessarily indulging in character assassination'.

'I will also request you to ensure that the government does not mislead people on the issue of Jan Lok Pal Bill', Hazare writes.

By saying that Anna Hazare is a 'mukhota' (mask) of BJP and RSS, your party leaders are levelling false allegations against me, as I have never aligned with any political party in my 73-year-long  life, writes Hazare.

This is a disturbing trend for Indian democracy, because your party leaders are trying to ensure that I do not get the support of my countrymen as was witnessed in the April 6  indefinite fast at Jantar Mantar, writes Hazare.

If responsible people in your government and party speak untruths only for the sake of power, it is not good for the country, writes  the social activist.

'Most of the political parties today are seeking power in order to make money, or spending money to acquire power. They have forgotten the ideals of Bhagat Singh, Rajguru and Sukhdev and also the path of development underlined by Mahatma Gandhi, writes Hazare.

We had consciously disallowed politicians to come up the dais at our Jantar Mantar protest on April 5 and yet I am being described as a 'mask for BJP, RSS by some of your party leaders, which is not a good thing, writes Hazare.

I had gone to Gujarat and had then said  that there is corruption and too many scams in Gujarat, writes Hazare. Had I been a BJP man, I should not have said this, says the activist.

Regarding Baba Ramdev's fast, I had kept a condition that I would address the gathering only if people from political parties and "communal' people are kept away from the dais, and yet your party general secretary says I am a mask for BJP, RSS. Such comments are disturbing and have hurt me a lot, writes Hazare.

The Gandhian activist writes, if the Congress Party has concrete evidence about him being a BJP, RSS agent, then it should  make them  public.

On the issue of Lok Pal, Hazare writes that the government is trying to procrastinate on the issue. Hazare has renewed his threat to sit on indefinite fast from August 16, if the Lok Pal Bill is not passed by parliament by then.