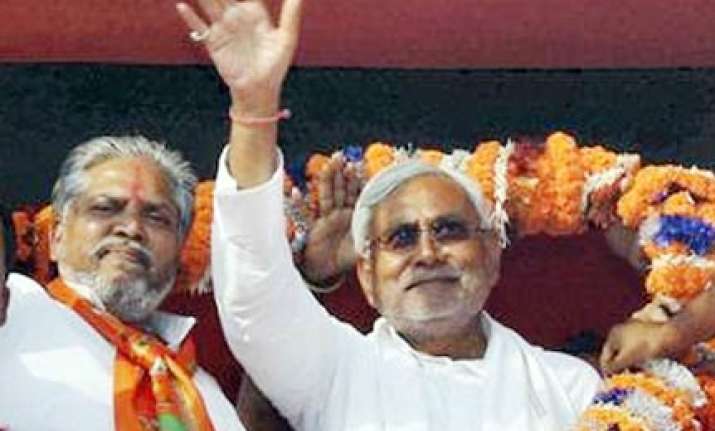 Patna, Nov 25: Nitish Kumar, who steered the NDA to an unprecedented victory in the Bihar elections, was today invited to form the government by Governor Devanand Konwar and will be sworn-in as the state's 34th chief minister tomorrow.
Kumar got the invitation from Konwar in the evening when he called on him at the Raj Bhavan to stake claim.
"The governor has invited me to form the government tomorrow at 2.30 pm at the Gandhi maidan," Kumar told reporters after his 50-minute meeting with Konwar. He was accompanied by JD(U) national president Sharad Yadav and senior BJP leader
Arun Jaitley
.
Sushil Kumar Modi, who was elected leader of BJP legislature party, will be sworn-in as Kumar's deputy.
Kumar said the list of ministers, who would take the oath with him, would be finanlised by top leaders of JD(U) and BJP.
Earlier, Kumar was elected leader of the NDA legislature party. His name was proposed by state NDA convenor Nand Kishore Yadav and seconded by state JD(U) president Vijay Kumar Choudhary.
Kumar was also unanimously elected leader of the 115-member JD(U) legislature party. His name was proposed by senior party leader Ramai Ram and seconded, among others, by Sahid Ali Khan, besides state JD(U) chief Vijay Kumar Choudhary.
Underlining the limitations of accommodation in the ministry, Kumar said, "We will ensure honour and respect for all. Don't say that you have won. As I have said, it's the people's victory. Just start work."
He also advised that there should be no arrogance over the victory of the NDA or belittling of the Opposition.
He said that there should also be no rush for occupation of flats before proper allotment as it would send a wrong message to the people. PTI