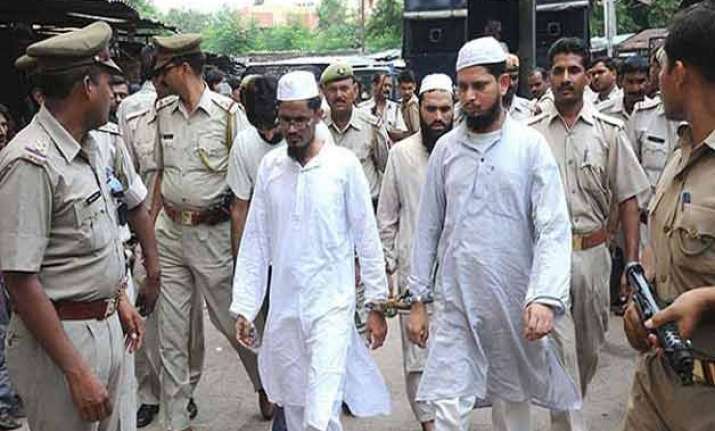 Barabanki (UP):  Harkat-ul-Jihad-al-Islami operative Tariq Qasmi was today awarded life imprisonment for
his role in 2007 blasts in Gorakhpur and Lucknow by a local court which held him guilty of sedition and keeping explosives.
Additional Sessions Judge Shanti Prakash Arvind held Qasmi guilty of sedition, keeping explosives and working against law of the country, defence lawyer Randhir Singh Suman told PTI.
Qasmi and another accused Khalid Mujahid were arrested by Special Task Force (STF) of Uttar Pradesh police on December 22, 2007 from Barabanki railway station, around 25 km from stat capital Lucknow.
The decision comes exactly two years after Uttar Pradesh government's move to withdraw cases against Qasmi and Mujahid.The state government had on April 24, 2013 directed the District Magistrate of Gorakhpur to file an application in court for withdrawal of the case.
It was the first terror case that the Akhilesh Yadav government had decided to withdraw in line with the party's election promise to withdraw terror cases against "innocent" youths. Six persons were injured in the Gorakhpur blast in 2007.
However, on May 8, a Barabanki court had rejected the plea saying that the government had filed faulty and incomplete papers. Mujahid died on May 18 after while being taken to court in Faizabad.
The defence lawyer today said that the lower court order will be challenged in the High Court.
The duo, as per the STF, was also involved in blasts in Gorakhpur and Lucknow in November 2007.
The then Mayawati government had set up R D Nimesh Commission on March 14, 2008 to probe the matter.
The commission, it is report, had raised suspicion over the claims of STF.