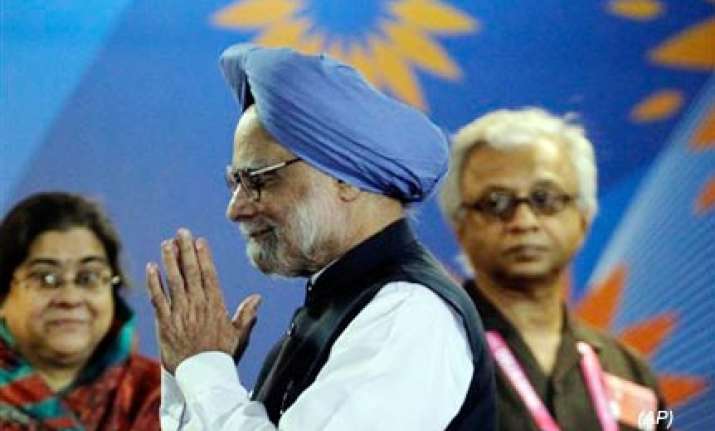 New Delhi, Oct 15: With the Commonwealth Games over and demands for probe for mounting, Prime Minister Manmohan Singh tonight appointed a high-level committee headed by a former CAG to go into allegations of corruption related to the mega sporting event.
The committee, headed by former Comptroller and Auditor General (CAG) V K Shunglu, will submit its report to the Prime Minister within three months, PMO spokesman said.
The announcement came even as the CAG stepped into the picture to conduct assessment of various projects related to the CWG with officials set to visit all the stadia and go through records.
Significantly, CWG Organising Committee Chairman Suresh Kalmadi, who has been in the line of fire over the corruption allegations, was snubbed when he was not invited to a felicitation at the Prime Minister's residence for Indian medal winners.
"The government has decided to constitute a high-level committee under former CAG V K Shunglu to look into all matters relating to organising and conduct of the Commonwealth Games 2010, New Delhi, including to draw lessons from it," the spokesman said.
The details of terms of reference will be announced in a day or two, the spokesman said.
The CAG, which had held up its audit during the Games, today sent its inspection officials to the CPWD office located inside S P Mukherjee Stadium to check the accounts related to the CWG projects.
The audit work for CWG is related to work payments, contracts and leasing of sports equipment among others.
The CAG audit would look into how the balance between the cost and quality has been maintained and whether there has been any cost overrun.
"We have started with the CPWD office inside the S P Mukherjee Stadium today. Now that the atheletes have vacated the venues, we will gradually start sending our inspection officers to all the stadia," an official with the auditing watchdog said.
The CAG had begun assessing the Games' expenditure in August, but had to stop the audit related works in the last week of September as they could not access the premises of the Central Public Works Department (CPWD).
The official said the CAG had to suspend the audit works for over a fortnight since most of the CPWD offices are located inside the venues which had the athletes till yesterday.
The official said the biggest venue, the Jawaharlal Nehru Stadium, is yet to be inspected by the CAG and the government auditor would soon send its inspectors there.
The statutory auditor expects to submit the final report to the government by January-end, to be presented in the Budget session of Parliament in February.
In August last year, the CAG had submitted an evaluation report to the Prime Minister's Office and the sports ministry pointing out the slow pace of progress of all the projects connected with the Games.
Against the backdrop of attack on him from various quarters over delays and charges of corruption ranging from favouritism in award of contracts to expensive hiring of training equipment, Kalmadi had the ignominy of being ignored for Prime Minister Manmohan Singh's reception to the medal winning sportsmen. PTI