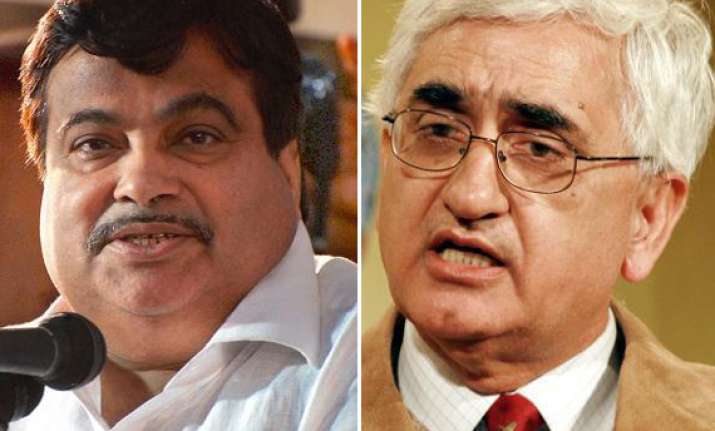 Allahabad, Feb 12: Terming Congress leader Salman Khurshid's remarks on minorities sub-quota as an "election stunt", BJP president Nitin Gadkari today demanded his "expulsion" from the Union Cabinet.

"The Law Minister's talk of greater sub-quota for Muslims is just an election stunt. But the disregard he has shown to the Election Commission's warnings is a cause for concern and requires strong action," Gadkari told an election rally in Phulpur, 40 kms from the city.

He said "Khurshid's speech violating the model code of conduct and his defiance of the EC's objections to the same may set a bad precedent.

"The Prime Minister should take action and expel him from the Union Cabinet".

Criticising the proposed increase in sub-quota for Muslims "which can not be possible unless the quota for the SCs/STs and the OBCs is cut into", Gadkari asserted "if the BJP comes to power, there will be no meddling with the existing reservation system".

The BJP chief criticised the ruling BSP in the state for corruption and lambasted the Samajwadi Party for pursuing "politics of appeasement" and claimed "the people are fed up with the drama and there appears to be a strong wave in favour of the BJP".

Meanwhile, a number of election meetings were addressed by the party's star campaigners Uma Bharti and Shatrughan Sinha on the penultimate day of campaigning in the city.

All 12 assembly seats in the district, including three in the city, are going to polls on February 15.