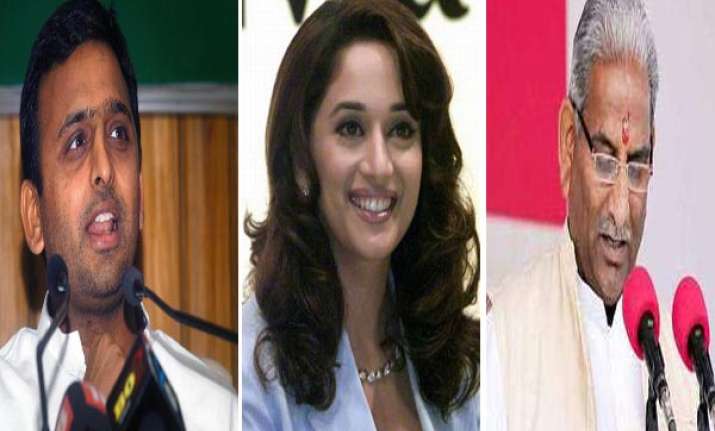 Lucknow, Apr 14: A furious Uttar Pradesh chief minister Akhilesh Yadav on Saturday sacked his Khadi and rural industries minister Rajaram Pandey for making a sexist remark about Bollywood heroines' cheeks.
In Pratapgarh, while speaking to mediapersons at his camp office, Pandey was detailing about his "dream project" and promising to rid the roads of potholes.
Pandey said, the government was fulfilling all its promises and work on rural electrification and urban sewerage projects are in full swing.
As he began mentioning about potholed roads, Pandey said, after finishing off the sewerage construction work, the roads of Pratapgarh would be made as smooth as Hema Malini's cheeks, if not, as smooth as Madhuri Dixit's cheeks, causing loud guffaws among the audience.
It was this very minister who had described the district collector of Pratapgarh  Dhanalakshmi as a beautiful lady while addressing a public gathering, leaving the lady shell-shocked.
IANS adds: In a notification issued by the state chief secretary, it was informed that the minister was being divested of his charges with immediate effect.
Pandey, a three-time legislator from Vishwanathganj, hogged the limelight in February when he openly admitted of being enamoured by the district magistrate of Pratapgarh, detailing and comparing her beauty to her predecessor.
While the minister got away then despite condemnation by woman social workers and activists, he made another comment Friday at a public function that he would ensure that the roads in the state were made akin to the cheeks of film actress Madhuri Dixit.
Sources say the statement had angered the chief minister so much that he told his father and party chief Mulayam Singh Yadav that he would not settle for anything but Pandey's exit from the government.
"The chief minister was very cut up by such a remark and decided enough was enough," a close aide told IANS.
Once Mulayam Singh Yadav gave Akhilesh the go ahead, he asked the needful to be done and Chief Secretary Jawed Usmani went ahead with the press communique.
This is the second instance in the last one day when Akhilesh Yadav took charge and took decisive decisions.
Yadav Friday removed the state Director General of Police A.C. Sharma for non-performance.
He further reshuffled the state bureaucracy Saturday and transferred 23 IAS officials and 63 PCS officials.
This, party leaders point out, was a clear indicator that Akhilesh "was coming in his  elements" and perhaps walking out of the shadow of his father and party chief Mulayam Singh Yadav.