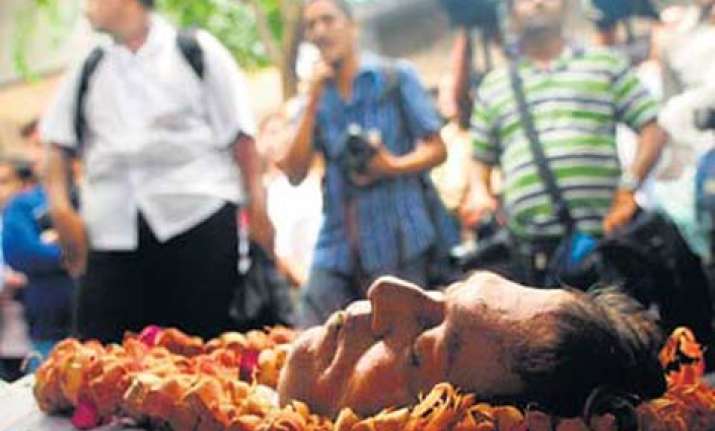 Mumbai, Jun 13 : The crime branch of Mumbai Police has formed four teams of around 12 policemen each to probe the killing of senior journalist J Dey. Officers of the property and anti-extortion cells,and units 8 and 10 have been told to work on various aspects, says a TOI report.

Dey,a senior crime reporter with Mid Day,was shot dead at Hiranandani complex in Powai on Saturday while returning to his residence after visiting his mother.The government has decided to grant special police protection to the journalist's family.

Crime branch teams on Sunday visited the residence of Dey's mother as well as his house in Powai and requested the family to hand over his notes, pen drives, documents, hard disks and the CPU of the home computer.

Officials hope to find clues on whether he was working on any sensitive story.

Sources said Dey used to store information on floppies but with advancement in technology, he started storing notes in pen drives.

Senior officials said they have received important leads in the case and are working on them.

The police said the place, time, route and modus operandi the shooters chose to kill Dey indicate it is a fallout of professional enmity.

The police have prima facie ruled out the involvement of the underworld as there was no immediate reason or provocation.

The needle of suspicion,however,is pointing to either the sand or oil mafias, who Dey had taken on.

Police probing his death are confused with several theories about the possible motive of the murder.

Theory 1: J Dey had got hold of a confidential report on a police officer talking to a fugitive gangster and he was likely to publish the taped conversation.

Theory 2: Hinted at a police officer,recently shunted following Deys report,as the culprit.

Theory 3: Dey's recent report about an illicit affair of a Chhota Rajan shooters mother with another criminal may have irked the shooter.There are also reports that Dey was likely to publish write-ups on the sand or oil mafia.