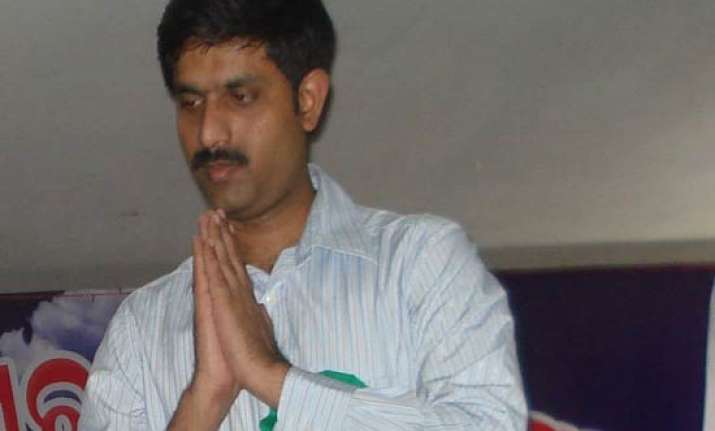 Bhubaneswar, Feb 23: After a seven day ordeal, abducted junior engineer Pabitra Majhi was freed today by Maoists in Orissa while suspense continued over when fellow hostage and Malkangiri district collector R V Krishna will walk free.
Orissa High Court meanwhile granted bail to top Maoist leader Ganti Prasadam, whose release is among the conditions set by Naxals for the safe return of Krishna, a 30-year-old IAS officer, and Majhi. The two men were abducted on February 16.
22-year-old Majhi was set free even as Maoist-chosen mediators and the Orissa government held discussions on the modalities to implement the 14 demands set by Naxals in exchange for the release of the two abducted men.
"Majhi was taken by local villagers on a motor-cycle to Chitrakonda after being released by the Maoists in a remote forest in Malkangiri," Chitrakonda Tehsildar D Gopal Krishna said over phone. Malkangiri is about 650 km from here.
Majhi said the Maoists while setting him free have promised to release Krishna, whose whereabouts were not known, within "48 hours" and that the official was "fine and being treated well".
Maintaining that the rebels treated them properly without harassment or torture during the week-long ordeal in captivity, Majhi told reporters at Malkangiri that both he and the collector were served good food, including rice and dal.
"The district collector is fine and in good condition. There is nothing to worry about his health. We were together," Majhi said adding, "I am also fine."
Asked as to why the collector was not freed along with him, the junior engineer said "I cannot say. It was entirely up to them (naxals)".
Unable to name the place where the two were kept, Majhi said the naxals did not send any letter when they freed him at a place near Jantapai.
Chief Minister Naveen Patnaik told the assembly that as per the commitment made by the mediators, Krishna would safely return latest by tomorrow.
Officials said Krishna too would return soon without elaborating.
"The junior engineer is fine though he seems to be tired," officials said, adding, doctors were examining him.
Soon after his arrival at Chitrakonda, he was taken to Tehsil office where Government officials met him.
Huge crowds gathered at the Tehsil office to have a glimpse of the freed engineer. Majhi was later shifted to a guest house of Balimela Dam Project, sources said.
In a development which apparently had a bearing on the safety of the two hostages, the High Court granted bail to Prasadam on a bail bond of Rs 20,000 and two sureties.
While Orissa government had agreed to all the 14 demands of the Maoists, including withdrawal of cases against five naxals, the mediators held fresh talks with state officials today to work out modalities for implementation.
"We are holding discussion on how to ensure proper implementation of demands," mediator Prof G Hargopal said.
Home secretary U N Behera said the mediators were also waiting for return of both the hostages and "our meeting will continue till both are back."
Behera had yesterday said the week-long hostage crisis had been resolved.
The Orissa government did not oppose the bail of Prasadam who was booked under charges like sedition and waging war against government.
Prasadam, now lodged in Jharpada special jail here after being brought from Koraput, was believed to have played a key role in giving shape to the negotiations between the interlocutors and the state government.
Behera had said it was agreed that cases against five Maoists, including Ganti Prasadam and Padma, wife of top naxal Ramakrishna will be withdrawn after following due process of law. PTI