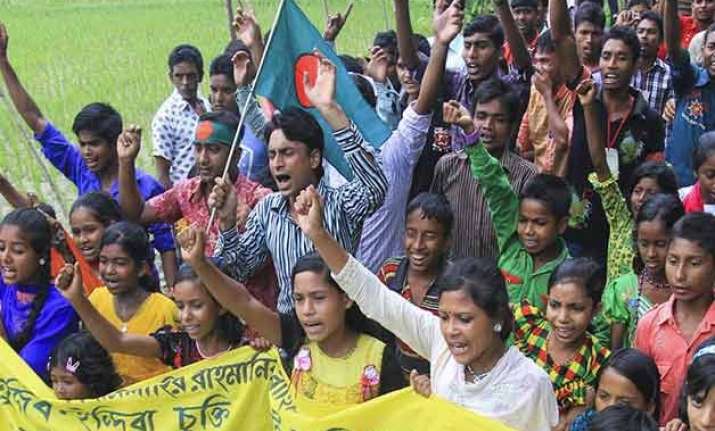 Cooch Behar (West Bengal):  At the stroke of Friday mid-night, 51,000 stateless people of India and Bangladesh attained freedom when the two countries ended more than six decades of their lingering wait for citizenship by exchanging 162 adversely-held enclaves between them.
Seconds past mid-night, hundreds of people in the Indian-held enclaves including Madhya Masaldanga came out of their homes, hoisted the tricolour and danced in joy as the much-awaited exchange of enclaves--111 of India and 51 of Bangladesh--came into effect.
The exchange of enclaves was made possible under the the Land Boundary Agreement signed between the two countries recently.
About 51,000 residents of the enclaves, who have been stateless for decades, have chosen the country they want to live in. 14,000 of them living in Bangladeshi enclaves, which have now merged with India, have become Indian citizens. 
All the Indian enclaves were located in West Bengal's Cooch Behar district.
Barring less than 1,000 people, the rest living in Indian enclaves in Bangladesh have become Bangladeshi citizens.
111 Indian enclaves measuring 17,160 acres became Bangladesh territory. Similarly, 51 Bangladeshi enclaves measuring 7,110 acres became Indian territory.
Though no official ceremony was held, an organisation named Bharat-Bangladesh Enclave Exchange Co-ordination Committee (BBEECC) organised a ceremony at Madhya Masaldanga enclave adjacent to Dinhata sub-division of Cooch Behar. 
It was an enclave of Bangladesh encircled by Indian territory.
For the first time, the residents of enclaves will get identity papers and land in their own names putting to an end the agony of the residents that started in 1947 with the Partition.
"For us this is nothing but second freedom. India might have got freedom in 1947. But we got our freedom today as from now on we will be citizen of a country. We will also be called Indians," said a 18-year-old enclave dweller, while waving the tricolour.
 
The LBA was signed in the presence of Prime Minister Narendra Modi and his Bangladeshi counterpart Sheikh Hasina under which the two countries swapped the enclaves dotted around the border. 
Their inhabitants were deprived of public services like health care, electricity and living in squalid conditions.
"This is not just a historic day for the enclave dwellers on both sides but also a day when our years of toiling and hard work, movements have bore a fruitful result," Chief Coordinator of Bharat Bangladesh Enclave Exchange Coordination Committee Diptiman Sengupta told PTI.
West Bengal Chief Minister Mamata Banerjee, who herself was present during the signing of Land Boundary Agreement (LBA), congratulated the enclave dwellers over the exchange of enclaves.
"Historic Land Boundary Agreement (LBA) comes into effect at midnight. Thousands of people will get new identities. Congratulations to them," Banerjee tweeted.
Although the official exchange of enclaves has begun the exchange of residents is supposed to end by November.
"The exchange of residents who wish to come this side will begin from November. In between we will be building small dwelling units for those who will be coming from that side," ADM (Cooch Behar) Chiranjib Ghosh told PTI.
The land accord was originally agreed in 1974 by the then Prime Minister Indira Gandhi and her Bangladeshi counterpart Sheikh Mujibur Rahman.
There was no progress for a long time after Mujibur was assassinated in 1975 and subsequent governments failed to agree on the transfer of enclaves.