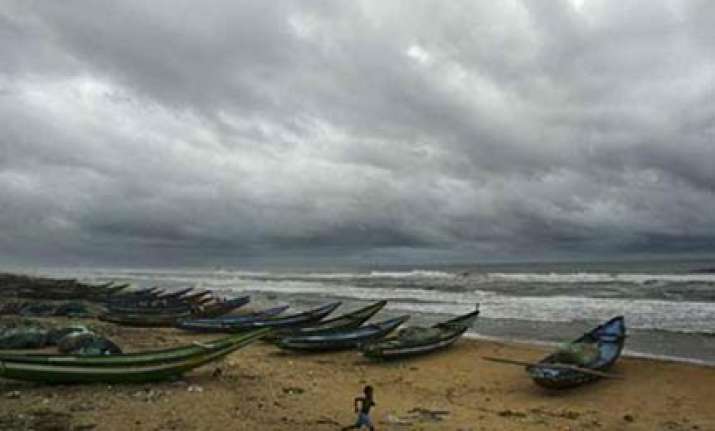 Chennai, Nov 7 (PTI) Severe cyclonic storm 'JAL' has weakened into a cyclonic storm and lay centred over southwest Bay of Bengal, about 250 km east-southeast of Chennai, today even as two persons died in rain-related incidents in Tamil Nadu.
"JAL has moved northwestwards and weakened into a cyclonic storm and lay centred at 1130 hrs over the southwest Bay of Bengal about 250 km east-southeast of Chennai, 350 km south-southeast of Nellore and 450 km north-northeast of Trincomalee (Sri Lanka)," weather office said.
The storm would move west-northwestwards, slightly weaken further and cross Tamil Nadu and south Andhra Pradesh coasts tonight between Puducherry and Nellore close to Chennai, it said.
Fishermen have been advised not to venture into the sea as squally weather with wind speed reaching 60 to 70 kmph is likely along Tamilnadu and Puducherry coasts.
Police said a 50-year-old man died in Chennai today when a tree branch fell on him due to strong winds.
At Kanyakumari in Nagercoil district, a 38-year-old man, hailing from Bangalore, who went out for sightseeing near the beach, slipped from a rock and was washed away by the high waves. His body was later recovered, police said.
The Tamil Nadu government has put coastal districts on a high alert and advised people living in low lying areas to move to places of safety.
Schools and colleges in Chennai, Kancheepuram and Tiruvallur district would remain closed tomorrow.
The Puducherry administration has also declared a holiday for schools.
In Chennai, Tamil Nadu Deputy Chief Minister M K Stalin visited rain affected areas and ordered authorities to extend all possible help to the affected people.
He told reporters that officials had been put on high alert. "Rubber boats have been kept ready in case of any emergency for rescuing people in low lying areas," he said.
Arrival of flights from various destinations to Chennai were also affected due to rain. Airport sources said two Chennai-bound flights from Port Blair and one from Delhi were diverted to Bangalore due to bad weather.
However, Bus and train services, including the electric multiple unit (EMU) services, remained unaffected.
More than 50 trees were uprooted in Chennai at various places due to strong winds,police said