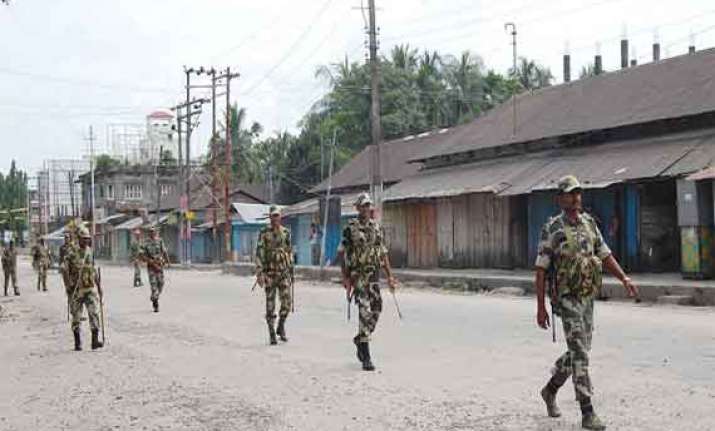 Guwahati, Nov 18: With no fresh case of violence, authorities Sunday relaxed for four hours the four-daly long indefinite curfew in violence-hit Kokrajhar district in Bodoland Territorial Areas Districts (BTAD) of Assam.
The curfew was relaxed from 10 a.m. to 2 p.m. to let people buy essentials.
Inspector General of Police (BTAD) G.P. Singh said no incident of fresh violence was reported from anywhere in BTAD since Friday night.
"There has been no major incident of violence since Friday night. On Saturday, some armed men snatched an SLR (self-loading rifle) from a security personnel deployed in a construction company at Kokrajhar," Singh said.
As many as 11 people have been killed and several others injured in a violence in Kokrajhar and Gosaigaon since Nov 10. The violence also spread to Baksa and Udalguri districts in BTAD after Kokrajhar.
One person was killed in Baksa. However, there were reports of firing and arson from Udalguri as well as Baksa, police said.
Suspected militants Friday evening opened fire in two separate areas of Jiaguri village in Kokrajhar district, killing four people and injuring a boy.
On Saturday, police arrested Mono Kumar Brahma, executive member of the Bodoland Territorial Council, after two AK-47 rifles, two magazines and 60 rounds of live ammunition were recovered from his house.
The IGP said additional personnel were deployed in Kokrajhar and the army had been continuing its flag march in all the sensitive areas of the district.
Assam Home Secretary G.D. Tripathy said five columns of the army were deployed in the district, besides more than 45 companies of central paramilitary forces and state police forces.
"We have launched a special drive against illegal arms and ammunition in BTAD. We have sought 10 companies of additional forces from the central government to help the police in this drive," Tripathy said.
"While five of the 10 additional forces are on the way, five more will reach the state later," he said, making it clear that the drive against the illegal arms and ammunition will be launched in all the four districts of BTAD.