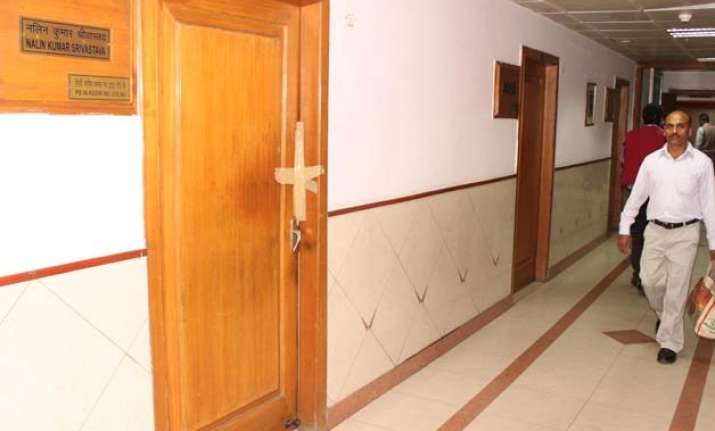 New Delhi: In a latest revelation which could further unfold many 'secrets' in corporate espionage case, experts scrutinising the 'crucial' leaked documents from the Petroleum Ministry claimed that many important papers were stolen before reaching the Prime Minister's Office (PMO) and Parliament.
They also said that many of the files have not yet reached the concern offices/departments, PMO and Parliament.
It is also believed that almost everything the government was planning or deciding on was being leaked to interested private organisations and that they were aware about government's every 'future' proposals.
ALSO READ: Corporate espionage: List of leaked documents
Crime Branch of Delhi Police, which is looking into the case, has seized thousands of documents from corporate spies, consultants and agents.
The seized documents are highly classified and are signed by senior officers like secretaries, joint secretaries and under-secretaries and even ministers or committees formed by Parliament.
The papers also list the details of each meeting and communications between several departments of the government. It also includes legal papers and even audit reports.
Crime Branch sources said that private companies were 'direct beneficiaries' of the leaked documents as they got to know policy decisions much earlier.
Experts have so far studied these documents: CAG report on hydrocarbon production, notes on approvals by Cabinet Committee on Economic Affairs (CCEA), government decisions on several national and international projects, Cabinet note on open licensing policy for oil companies, file notings and documents related to coal block auctions, reports of Public Accounts Committee (PAC), correspondence between the minister and his officials, and even communiques of investigating agencies and autonomous bodies, a Times of India report stated.
Individual project documents recovered from the accused persons include a feasibility report of setting up an oil refinery near Tiruvannamalai in Tamil Nadu, a report on natural gas production, maps of an under-consideration gas pipeline project from Ahmedabad to Surat, and several others.
A senior officer said the documents found in the hands of private persons may have compromised national security and the future of several projects.
Investigators have also recovered five computers and laptops, hard disks and other electronic devices.
The Delhi Police busted the corporate spying ring in the Petroleum Ministry after being alerted by the Intelligence Bureau (IB). The police caught Rakesh Kumar, 30, Lalta Prasad, 36 - both brothers and residents of Delhi, and Raj Kumar Chaubey, 39, a resident of Ghaziabad in Uttar Pradesh, red-handed with photocopies of some secret documents in Shastri Bhawan on February 17. Based on information provided by them, government employees Asharam, 58, and Ishwar Singh, 56 were also arrested. They were part of the multi-tasking staff (MTS) in Shastri Bhawan. Two energy consultants -- Santanu Saikia, a former journalist, now running a web portal and Prayas Jain, CEO of oil and gas consultancy Metis India -- were also arrested as they were also suspected to be receivers of the stolen documents.
Crime Branch officers said that they are still questioning he five executives of leading energy companies who were arrested in the case. They are: Shailesh Saxena (Manager, corporate affairs, RIL), Subash Chandra (Senior executive, Jubiliant Energy), Rishi Anand (DGM, Reliance ADAG), Vinay (DGM, Essar) and KK Naik (DGM, Cairns India).
A total of 12 people have been so far arrested in the case.
Delhi Police, which is probing the case, reports to the Ministry of Home Affairs.